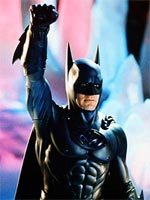 UK film mag Empire has polled its readers and assembled a list of the 50 worst films of all time, and the results make for fun reading, even if it would have you believe that hardly any bad films were made before the 1980s.
Anyway, the multiple Bat-fans around these parts will no doubt relish the appearance of Joel Schumacher's universally derided "Batman and Robin" at the top of the list — apparently winning more than three times as many votes as the runner-up.
Empire describes it as follows: "From the neon design to the overblown script to the infamous Batnipples, it's become a byword for franchise-killing and bad movie-making."
Some of the inclusions strike me as a little hyperbolic — ridiculously so, in the case of Michael Cimino's "Heaven's Gate," which I actually have a lot of time for. Sometimes the legend overshadows the actual film. Check out the full list here; their top (or bottom) 10 is after the cut.
1. "Batman and Robin"
2. "Battlefield Earth"
3. "The Love Guru"
4. "Raise the Titanic"
5. "Epic Movie"
6. "Heaven's Gate"
7. "Sex Lives of the Potato Men"
8. "The Happening"
9. "Highlander 2: The Quickening"
10. "The Room"