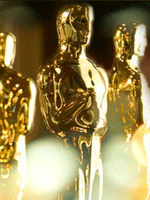 As of this moment we are 32 days away from this year's Academy Awards celebration, taking place on Sunday, March 7.  That gives us 23 business days, so I've decided to launch a new feature here at In Contention: the Oscar Guide.
Every week day this month we'll be featuring one of the 24 Oscar categories in depth, beginning later this afternoon with the Best Supporting Actress field.  On Saturday, March 6, we'll wrap the feature up with a look at the 10 Best Picture nominees and one more analysis before the big day.
Each Oscar Guide entry will be accompanied by a sidebar poll asking you, the readership, what you think deserves to win in said category.  That worked out nicely last year.  (The supporting actress poll is already live.)  At the end of the run we'll have a master list of what you all think the slate of winners SHOULD look like, and we'll have fun discussing and (surely) debating each category along the way.
So keep an eye out later today and throughout the month as we inch closer to the 82nd annual Academy Awards!