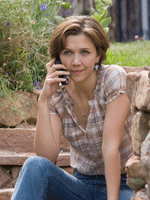 Throughout the morning and early afternoon we took statements from or hopped on the phone with 44 of today's Oscar nominees.  Their reactions…
Maggie Gyllenhaal, supporting actress, "Crazy Heart":
The thing is, you know, I'm so proud of the movie and I always have been, more proud of it than any of the work I've done so far.  But because I wasn't getting nominated for anything, I wasn't expecting it.  My phone was ringing so early and I thought, "Wait, maybe!"   I was staying at my brother's in LA.  He said to me, "Your phone is going to be ringing all day."  He made me a cup of coffee and then we watched the sun rise.  It was pretty mellow.  But this wouldn't be happening for Jeff [Bridges] or me if it wasn't for Scott [Cooper].
Woody Harrelson, supporting actor, "The Messenger":
Thrilling news to wake to this morn. I feel so lucky and hope screenwriter nod for Oren and Alesandro as well as mine will encourage more folks to watch this beautiful film and the riveting performances of Ben Foster and Samantha Morton.
Jeff Bridges, lead actor, "Crazy Heart" (via statement):
I'm so grateful to have the honor of a fifth Oscar nomination, but to share this with my Crazy Heart colleagues T Bone and Ryan and my amazing co-star Maggie is truly special – this film is near and dear to my heart and theirs.  I want to thank the Academy for being so kind to me for the past 40 years, and I want to thank my director Scott Cooper for helping bring Bad Blake to life, and to my wonderful wife Sue for being there for me the past 33 years. Today is filled with blessings.
Neill Blomkamp, co-writer, "District 9" (via statement):
Every aspiring filmmaker dreams of being nominated by the Academy, but when we began making District 9, none of us dared to think that our small film, shot in South Africa, with no well-known actors, could be Oscar nominated. And honestly, if it weren't for Peter Jackson's belief in the film, we wouldn't be here today. I'm extremely gratified, excited, and humbled, and I'm also grateful to the Academy for recognizing so many of the talented people who helped make it a reality.
Carolynne Cunningham, producer, "District 9" (via statement):
It's truly exciting to be part of a project such as District 9.  It was an unusual project to bring together but Neill Blomkamp kept his vision all the way through and delivered this fantastic "little-big" movie, of which we are very proud.  We always hoped and strived to make a film that would please audiences, but to be recognized by one's peers is an overwhelming feeling.  Thank you so very much for the honour of being nominated, it's a wonderful acknowledgement to all of the crew and cast that worked so  tirelessly to make everything as right as it could be.
Quentin Tarantino, "Inglourious Basterds" (via statement):
Wow! This honor gives me such tremendous satisfaction. And I'd like to congratulate all the other nominees in the directing and writing categories. I'm proud to be in their company.
Maury Yeston, writer, "Take it All" from "Nine" (via statement):
It is such an honor for my work to be given the distinction of being in the company of the other wonderful songs and writers who have been nominated for the Academy Award. That in itself is so meaningful all on its own. I am deeply grateful to Rob Marshall and The Weinstein Company for giving me the opportunity to create a new dramatic song for NINE  –  'Take It All' – and to see the extraordinary Marion Cotillard bring it to life.
Matt Damon, supporting actor, "Invictus" (via statement):
To be directed by Clint Eastwood every day and to sit across the table from Morgan Freeman and watch him do what he did was a dream come true. I'm so grateful that this role came my way.
Nick Hornby, writer, "An Education" (via statement):
I am thrilled and proud to be an Oscar nominee. It's wonderful that a film of this size can attract the attention of the Academy and I hope it gives encouragement to independent filmmakers everywhere.
Christopher Plummer, supporting actor, "The Last Station" (via statement):
I'm absolutely delighted that Helen Mirren and I have both been nominated by the Academy for portraying that stormy couple, The Tolstoy's.  As I've just turned 80, there's no way it will go to my head.
Kathryn Bigelow, producer/director, "The Hurt Locker" (via statement):
This is a great honor and a wonderful compliment to everyone who worked on the film. I've always believed that the secret to filmmaking is that it is essentially a collaborative medium, and so to get recognized by the various branches of the academy is truly heart-warming, and I know all of us who worked on The Hurt Locker are going to treasure this.  Personally, I'd like to thank the director's branch for their support.
Geoffrey Fletcher, writer, "Precious":
The nomination hasn't sunken in yet. I feel the way I do when I stub my toe and wait for the sensation to register; I just stared at the screen when my name was called. I received so many great messages from friends and family today. My mother Bettye's call was particularly special. Even though I don't remember exactly what she said, I won't forget her enthusiasm. After the nominations were announced, I was also thinking of my father, Alphonse, a lot; and I just wish he were here to share this with us. He and my mother worked so hard for my two older brothers and me, as they invested so much in us. My brothers' influences were also a large part of today's announcement. My oldest taught me about animation at an early age and our middle brother deepened my understanding of storytelling through our lengthy conversations on the topic. There were many, many things, and without the support of each member of my family, my name wouldn't have been called today. I never knew that this film would even get made. I just knew that I cared about Precious and her journey so deeply.
Michael Giacchino, composer, "Up":
It's been a crazy couple of weeks for sure, but it's been fun because this film has meant a lot to me.  It's always good because the way I go into these projects is I pick things I know I will love doing and working with the people who are making them, and I'm very picky about that.  It never gets old.  It's always good.  It's nice when people like the stories you tell.
Anna Kendrick, supporting actress, "Up in the Air" (via statement):
I am thrilled beyond words to be nominated with these talented and inspiring women. Being involved in a film as special as Up in the Air was a dream come true. I am overwhelmed and honored by this nomination and am so grateful to be able to share this experience with George, Vera and Jason.
Ethan Coen, Joel Coen, writers/producers, "A Serious Man" (via statement):
We are very happy to have received these nominations and would like to thank the Academy and everyone that made this film possible – a special thanks to Focus Features and Working Title Films. Thank you very much.
Robert Stromberg, co-production designer, "Avatar":
I was surprised.  The fear, or the part that made me worry, of course, was the acceptance of new technology.  To some degree, in my opinion, it's only something that will enhance.  I don't think real sets are ever going to just go away.  I think this is just another tool in the tool box and you can expand outside the soundstage walls a little bit, and I think it's a good thing that the Academy recognized that.  I'm glad they embraced the future in that way, because it's here.
Armando Iannucci, co-writer, "In the Loop":
There was an element of us being a bit of a longshot, but I knew from my time doing screenings and stuff, from writers, there was a lot of enthusiasm.  And it's great that a comedy gets the recognition.  I was having lunch with some friends and our producer rang and said, you know, "Yay!  You've got the nomination."  I had given myself a very busy schedule so that I wasn't looking at computer screens and stuff and I actually forgot about the announcement.  Then I got the call and ran out to take it, rang my family and before I knew it an hour had passed and they had taken my lunch away.  The highs and lows of Oscar season.
Henry Selick, director, "Coraline" (via statement):
I feel very lucky and very grateful that Coraline is nominated. There were more excellent animated features released in 2009 than in any year before, so being included makes all of us from LAIKA and Focus Features very proud. And the diversity of the nominees in both storytelling and animation techniques gladdens my heart: The Princess and the Frog and The Secret of Kells, done in hand-drawn animation; Coraline and Fantastic Mr. Fox, in stop-motion; and Up, in glorious CG. It's a great day for me, my family, and for all of us on Coraline – and a great day for animated feature films.
Gabourey Sidibe, lead actress, "Precious" (via statement):
I am so excited and honored to be recognized by the Academy and included in such a remarkable group of actors. I'm very proud of my film, my cast and extremely grateful to Mr. Daniels for the incredible opportunity to play Precious.
Sheldon Turner, co-writer, "Up in the Air" (via statement):
When you're a kid, you dream about these things. But that still doesn't prepare you for the moment. I'm in a glorious daze, humbled to be honored by my peers.
Jeremy Renner, lead actor, "The Hurt Locker" (via statement):
This is more exhilarating than I could have ever imagined. What a tremendous honor from the Academy– a blazing stamp in the passport of an artist that can never be taken away and will always be cherished.
Wes Anderson, director, "Fantastic Mr. Fox" (via statement):
I am very honored to have received an Oscar nomination for Fantastic Mr. Fox.  Roald Dahl's classic story has been one of my favorite books since I first learned to read, and it was an amazing experience to work with my many, many very skilled collaborators and bring it to life as a stop-motion film! I would like to congratulate Alexandre Desplat, who wrote our wonderful score, for his nomination as well.
Morgan Freeman, lead actor, "Invictus" (via statement):
I'd like to thank the Academy for this extraordinary honor. Congratulations to Matt Damon on his nomination. I'm especially grateful to Clint Eastwood, Invictus producer, Lori McCreary, and the entire cast and crew…Most importantly, thank you to Nelson Mandela for his encouragement, his blessing and his friendship – without which, this film would not have been possible.
T Bone Burnett, co-writer, "The Weary Kind" from "Crazy Heart":
We're incredibly happy.  I must say, I try to stay out of the light.  I like to stay behind the scenes.  But this is an irresistible ride, this little picture and everything that's happening with it.  For this little picture to come this far in this span of time, I've never seen anything like it.
Anastasia Masaro, production designer, "The Imaginarium of Doctor Parnassus":
I was on a phone call with a friend — who had not called me about the Oscars — then I got a phone call from another friend so I had two cell phones in my ears and started screaming.  I think this one was one of Terry's more visually "big" movies, but I think it kind of stands out.  It's pretty overwhelming.  The phone has not stopped ringing.
Lawrence Bender, producer, "Inglourious Basterds" (via statement):
Quentin continues to be a trailblazer and I am honored to be on this journey with him.  This nomination is a thrill not only for me but everyone who has worked so hard to make INGLOURIOUS BASTERDS a success.  Thank you to The Weinstein Company and Universal for all of their support.
Penelope Cruz, supporting actress, "Nine" (via statement):
I am completely surprised and elated. Rob Marshall is not only a genius but an absolute joy to work with. I woke up every morning excited to collaborate with this amazingly talented group of actors. Filming this movie was such a special experience and to be nominated for this role makes me so happy.
Colin Firth, lead actor, "A Single Man" (via statement):
I thought I was managing my expectations, but on hearing the news I discovered new and unfamiliar vocal tones. Perhaps I should do another musical.
Jason Reitman, co-writer/producer/director, "Up in the Air":
I'm going to Disneyland!  Literally.
Sandra Bullock, lead actress, "The Blind Side" (via statement):
Who would have thought after all these years that I would be experiencing this moment now . . . I certainly didn¹t.  But I am honored beyond words to experience this journey with John Lee Hancock and Gil Netter, and to continue this astounding ride with the extraordinary women I share this category with. My time with them these past few months has meant more than anything to me.
Joe Letteri, visual effects supervisor, "Avatar":
Obviously a lot of people have been saying nice things about the film and the work and everything.  Looking at the bake-off this year, all the work was great, hands down.  And this year it seems like visual effects has really matured to the point that you're talking about creative and aesthetic choices.  "District 9" had really strong characters. and "Star Trek," the way they redefined the genre and unique visions of how we envision space, I think each of them really accomplished something unique.
Terri Tatchell, co-writer, "District 9":
I couldn't decide whether I should set the alarm and watch or whether that would be presumptuous!  But I was up at 4am, wide awake.  I was actually looking forward to the other nominees and then I heard my name and I was floored.  We had no idea how this film would be received.  We joked about the opposite of awards.  When we were writing it I remember joking, "Well this won't be our Oscar nomination, ha-ha-ha."
Catherine Leterrier, costume designer, "Coco Before Chanel" (via statement):
I would like to thank the Academy for this great honor.  For a designer, the challenge of doing a film about Chanel is like playing Shakespeare for an actor.  I share this wonderful acknowledgment with our director: Anne Fontaine and our Coco : Audrey Tautou, and with my extraordinary costume team.
John Musker, co-director, "The Princess and the Frog":
I wasn't sure whether or not we'd make it.  I didn't take anything for grated.  This is such a strong year for animation.  I'm very thrilled and proud that we did sort of bring back hand-drawn animation.  It's such a unique legacy and part of the Disney legacy and we hated to see it sent packing.
Ron Clements, co-director, "The Princess and the Frog":
We both got back from a European junket.  So our sense of time is totally wacky.  I was actually up and I watched it on TV.  It was exciting.  I saw Anne Hathaway say our names.  And it was really thrilling to see Randy Newman get two nominations for Best Original Song.   He was a great collaborator.  All the songs are different and there's something unique about each one.
Monique Prudhomme, costume designer, "The Imaginarium of Doctor Parnassus" (via statement):
I would like to thank the Academy for this honor. As well as Terry Gilliam who took me on his wagon and came this far. The actors who wore the costumes so well and my crews in London and Vancouver .  This is a tremendous moment for all of us!!!!  Thank you again.
Juan Jose Campanella, director, "The Secret in Their Eyes (El Secreto de Sus Ojos)" (via statement):
This is the best news a filmmaker can hope for. It is the kind of award that can change the life of a film forever. It is an amazing compliment for everyone who worked in the movie, that a group of your most qualified peers chose it as one of the best of the year. I also must mention how admirable I think it is that the Academy voters are perhaps the only juror in the world who is impervious to politicking, lobbies, critical pressure or fashionable trends. It is a group of the most talented filmmakers in the world who vote with their heart. Only the movie matters nothing else. A nomination from that group is specially rewarding. Thank you so much on behalf of the entire cast and crew.
Jacques Audiard, director, "A Prophet (Un Prophete)" (via statement):
I have just been told that I am nominated for an Oscar.  My first reaction was to turn around and ask if it's really me that they are talking about.  Then, maybe, at the same moment, I became a little bewildered.  I think of all these actors, all of the directors who have been in this same place: all of those lovely people who have made me dream and want to do what I do today and, in many respects, brought meaning to my life.  So what am I feeling?  In short, immense gratitude.
Robert Kenner, director, "Food, Inc":
I was in bed.  I had the worst night's sleep of my life.  I kept thinking I'm not nervous but for some reason I couldn't sleep.  It was a real great surprise and a treat.  It's such a thrill being a documentary filmmaker.  you get to go out into the world and make interesting films and your colleagues are wonderful people.  I didn't come to this film as a political activist, I came to it as a filmmaker to get people to think that we have a right to think about what we're eating.
Louie Psihoyos, director, "The Cove":
I don't think I've ever been happier.  It sounds like a bit of a cliche but I feel like you've already won to be nominated.  The media tries to present this as a horse race but I was at the DGAs this last weekend and I can tell you that I feel like we're all collaborators rather than competitors.  There's so much respect.  It was palpable in the room there.  The reason I'm happy to be nominated, all ego aside, is that the Oscars is the most watched program on Japanese television.  They can't cover this up anymore.  But the champagne corks won't be flying around here until we shut down the cove.
Pete Docter, writer/director, "Up":
I have not had many mornings like this. If every day was like this I'd wake up at five in the morning every day. It's pretty amazing. My wife and I grabbed the computer and crawled into bed and watched the stream online. It's kind of surreal sitting there in the dark and hearing your name called out over the internet. For us, [the film getting a Best Picture nomination] means Hollywood thinks of our movie the way we do, as a film. It has the same responsibility as any film. And it's a pretty banner year for animation, just great work all around, very stylistically different.
Mark Boal, writer/producer, "The Hurt Locker":
It's an out of body experience. I was in front of the TV. The film was never designed as a tent pole so we've accomplished what we set out to accomplish. This was intended to be an intense character study and a magnifying glass on the war. For Kathryn, I'm her biggest booster, and I'm grateful that she believed in the script at a time when it was like believing in unobtanium or something.
Ryan Bingham, co-writer/performer, "The Weary Kind" from "Crazy Heart":
It was in the air but you can never really know. I was in bed and my phone started ringing. I feel like I'm diagonally parked in a parallel universe, man. It's a whole different world out here.
Meryl Streep, lead actress, "Julie & Julia" (via statement):
I am proud and grateful to stand with these women who have given such a range of beautiful, indelible performances this year!!