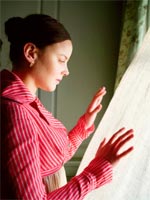 Well, I'll start the good news selfishly, by noting that I didn't entirely embarrass myself with my predictions: not counting the short categories (which I was too cowardly and uninformed to predict) I nailed 78/106, just two points behind Kris's round tally of 80.
But while I was pleased to see at least one of my out-on-a-limb guesses come good — seriously, why didn't more people call that Art Direction nod for "The Young Victoria?" — I was better at predicting what wouldn't get nominated.
So, my season-long hunches that Julianne Moore would be frozen out in the supporting race, that "(500) Days of Summer" would be blanked, that "Up in the Air" would miss that crucial Film Editing nod, and so on, were all on the money. And my increasing sense that nobody really liked "Invictus" enough to put it atop their ballot proved right too.
Now, if I only I'd known what would land in their place. You can't have it all, I suppose.
Overall, however, no inclusion — or omission — in this morning's announcement made me gasp with astonishment. "The Blind Side" was one of several titles I'd been juggling around for the final Best Picture slot, while only a few weeks ago, I thought that now semi-surprising writing nod for "The Messenger" was a sure thing. In the major categories, the name that I expected least was Penelope Cruz, given her vehicle's rapid momentum slide and keen support in some quarters for her co-star. But she's clearly cracked the Academy's VIP club, where her name alone can trump such concerns.
Remarkably enough, I don't really have that much to bitch about. Yes, that Best Supporting Actor category is a missed opportunity, with three performances from admirable actors that I nonetheless think fall shy of "good." Meanwhile, there are some head-scratching omissions in the technical races, including two — "District 9" for makeup and "Inglourious Basterds" for art direction — that I thought were primed for the win.
But thanks to this very lengthy season, I made my peace with many of my least favorite nominees a long time ago. And though it's aggravating to many, I still can't sincerely comment on the Best Picture nod for "The Blind Side" until I've actually seen the film. I will say, however, that if the expansion of the slate means the occasional nod for a popular star vehicle in place of more dreary prestige fare, I can live with that. (On another note, given this evident support for the film, did Sandra Bullock just win Best Actress?)
With that, then, I'd like to take a positive stance and list my five favorite things about this morning's nominations:
• "Invictus" snubbed for Best Picture: Not just because I predicted it — though that tastes sweet, too. But because the Academy showed some spine by recognizing that, however noble its intentions and lofty its pedigree, Clint Eastwood's dully earnest biopic simply wasn't up to par. Meanwhile, Neill Blomkamp's infinitely more inventive, genre-infused take on post-apartheid South Africa made the cut, while voters even found another socially conscious, true-life sports drama they liked more — proof positive that there's no infallible formula for  a Best Picture nominee.
• "The Hurt Locker" ties for pole position: As it turned out, Kathryn Bigelow's film didn't need an extra acting nod to rise to the top — the music branch did the job with a very intelligent (and thoroughly unexpected) nod for Marco Beltrami's subtly integrated score. "Avatar," meanwhile, received no such surprise bonuses — correctly snubbed for its clunky screenplay and ghastly theme song — which suggests to me that the smaller film is the one with the momentum going into the race. Regular readers will know I'm more than fine with that.
• The foreign-language branch redeems itself: However much it appeared that they couldn't miss, a small part of me feared that either "A Prophet" or "The White Ribbon" would be the victim of this branch's frequently wilful taste. But they weren't. And with additional mentions for the strong medicine of Israel's "Ajami" and Peru's oblique, studied feminist drama "The Milk of Sorrow" (a film I admit I admire more than I like), this is the most credible slate of nominees they've dreamed up in years. (No knock on "The Secret in Their Eyes": I just haven't seen it yet.)
• The animators throw up a surprise: Perhaps the most commonly asked question as Tom Sherak and Anne Hathaway left the stage this morning was, "What the hell is 'The Secret of Kells?'" I wasn't asking that question, however: this lushly stylized Irish oddity has been on my radar since it won the Audience Award at the Edinburgh fest back in the summer. (Buzz was so loud I couldn't even get into a screening.) I caught up with it recently to find the buzz well-earned: that the animation is branch is willing to eschew the name appeal and box-office muscle, to highlight a bold artistic statement that could use the attention makes my heart sing. (Who knows how close "Mary and Max" got?)
• "Bright Star" and "Il Divo" can call themselves Oscar nominees: Okay, so they just got solitary mentions for Costume Design and Makeup, respectively. But at least two of year's finest U.S. releases earned themselves a place at the table. Earlier in the season, Jane Campion's rhapsodic Keats biopic might have hoped for more, but after a precursor freeze-out that even extended to the costumers' Guild (shame on them), its beauty didn't go entirely unnoticed. An electrifying Italian political thriller, meanwhile, gets more Oscar attention than anyone could have imagined a month ago. Good on you, Academy.
Finally, a half-cheer for the fact that actors as fine as Vera Farmiga, Maggie Gyllenhaal and Christopher Plummer finally have the first Oscar nominations they've been owed for years. Their cited performances may pale in comparison to wrongfully overlooked work from earlier in their careers, but in the ladies' case, this will hopefully open the Academy's eyes to more adventurous work from them in the future.
And that's all I've got. Overall, a day of tame, but not unpleasant, unsurprises. Now what will we talk about for the next five weeks?