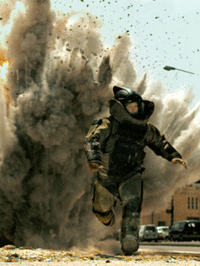 So, the AMPAS didn't embarrass itself TOO much this morning.  At the end of the day, "Invictus" proved to lack the proper passionate support to yield a Best Picture nomination.  The beneficiary of that: "The Blind Side." Make of that what you will.
"Avatar" and "The Hurt Locker" — get this — tied with a field-leading nine nominations each.  "Inglourious Basterds" wasn't far behind with eight, while "Precious" and "Up in the Air" tied with six apiece.  Pixar's "Up" managed five, while "District 9" and "Star Trek," the other sci-fi entries in the race, each received four, the former landing a Best Picture nomination and trending on Twitter as I type.  But how the hell it missed in Best Makeup is beyond me.  More on the techs below.
"The Blind Side" and "A Serious Man" get the "winner of two Oscar nominations, including Best Picture" honors.  But at least the latter made the cut after all.  There was some nervousness for a while there.
As I look through the nominations, I see nothing particularly eye-catching.  All of the "surprises" seem awfully reasonable and make perfect sense.  First and foremost, I'm kicking myself for blinking on Maggie Gyllenhaal in "Crazy Heart." In fact, I had that supporting actress category pegged 5/5 24 hours ago.  That's what I get for over-thinking it.  I'm really happy to see her slide into contention.  She worked it last month and at just the right time.

Unfortunately, though, her writer/director, Scott Cooper, was left off of the adapted screenplay contenders.  He has a bright future ahead of him regardless, offers coming in left and right, so he'll be just fine and might find himself back on Oscar's doorstep one day.  The film that DID make it into that adapted field was "In the Loop," which makes perfect sense and seemed a safe back-up bet to me yesterday.
As for original screenplays, hallelujah, "(500) Days of Summer" was snubbed.  And in favor of "The Messenger," no less.  Class.  I really thought a Best Picture nod was in Oren Moverman's future when this category was announced.
The tech fields are what they are.  "The Imaginarium of Doctor Parnassus" was thankfully remembered for its crafts, while "Avatar" was the expected dominating party.
Most revealing is the film editing category, where "Precious" managed a surprising (and MOST deserving) nomination.  If you go by Oscar history, one of those films will win Best Picture or it would be the first time in nearly 30 years that it didn't happen.  Then again, using the preferential balloting system for the winners could change that this year.
Elsewhere, Guy and I were correct in our assumption that Dion Beebe would be the lenser left off of the cinematography list, but it was Bruno Delbonnel's work on "Harry Potter and the Half-Blood Prince" that made the cut rather than "The Road," which is what we were thinking.
I had a hunch that if "Il Divo" had enough gas to make it to the bake-off then it might slid into the makeup field, and so it did, while the visual effects category was the only field throughout the techs that I nailed 100%  Then again, who was betting on any other trio?
"Inglourious Basterds" managed nominations in both sound categories, as I suspected it might.  Michael Minkler and Wylie Stateman are titans of their fields.  And in the music categories — WHEW — "The Weary Kind" got its much deserved nomination and should go on to win the big prize.
The surprise nominee for song was a tune from "Paris 36," while over in the score category, Alexandre Desplat managed to pull out a nod for "Fantastic Mr. Fox" after all, alongside Marco Beltrami and Buck Sanders for their haunting work on "The Hurt Locker."
Oh, in the animated feature category, it was "The Secret of Kells," an Annie nominee you might recall, that got in over "Cloudy with a Chance of Meatballs" rather than "Ponyo." Very interesting.  I'll see the film some time next week at the Santa Barbara Film Festival.  And in the documentary feature category (which had better be a clear path for "The Cove" on Oscar night), I was sad to see "Mugabe and the White African" miss, but you just never know what that committee will do.
Anyway, you can mull over the list of nominees below and draw your own conclusions.  I have nothing major to complain about, to be perfectly honest.  Yeah, the "Blind Side" nomination is silly, but it was either that or "Invictus," so what can you do?
Anyway, the race between David and Goliath continues.  I think the amount of support shown for "The Hurt Locker" speaks for itself, though, with clear support from the actors and the writers, which Cameron's film just didn't get.  But with a preferential balloting system, things are a bit more wide open than the two-horse race we've boiled it down to, so we'll see.
As for the experiment with the 10, I imagine by most counts, it will be considered a success.  That is definitely a unique mixture of American film product.  It's a shame something truly independent like "Crazy Heart" or "The Messenger" couldn't find room, but I think they were clearly close, so the logic holds that they still have a better opportunity in a scheme such as this.
As far as predictions, I managed 85/116 in the 23 categories I attempted.  94/116 if you count alternates.  And I went 39/45 in the top eight categories.
Stick around throughout the day.  Guy will offer his thoughts soon enough, while I'll be taking nominees' reactions for most of the morning and afternoon.
Best Picture
"Avatar"
"The Blind Side"
"District 9"
"An Education"
"The Hurt Locker"
"Inglourious Basterds"
"Precious"
"A Serious Man"
"Up"
"Up in the Air"
Best Director
James Cameron, "Avatar"
Kathryn Bigelow, "The Hurt Locker"
"Quentin Tarantino, "Inglourious Basterds"
"Lee Daniels, "Precious"
Jason Reitman, "Up in the Air"
Best Actor
Jeff Bridges, "Crazy Heart"
George Clooney, "Up in the Air"
Colin Firth, "A Single Man"
Morgan Freeman, "Invictus"
Jeremy Renner, "The Hurt Locker"
Best Actress
Sandra Bullock, "The Blind Side"
Helen Mirren, "The Last Station"
Carey Mulligan, "An Education"
Gabourey Sidibe, "Precious"
Meryl Streep, "Julie & Julia"
Best Supporting Actor
Matt Damon, "Invictus"
Woody Harrelon, "The Messenger"
Christopher Plummer, "The Last Station"
Stanley Tucci, "The Lovely Bones"
Christoph Waltz, "Inglourious Basterds"
Best Supporting Actress
Penelope Cruz, "Nine"
Vera Farmiga, "Up in the Air"
Maggie Gyllenhaal, "Crazy Heart"
Anna Kendrick, "Up in the Air"
Mo'Nique, "Precious"
Best Adapted Screenplay
"District 9"
"An Education"
"In the Loop"
"Precious"
"Up in the Air"
Best Original Screenplay
"The Hurt Locker"
"Inglourious Basterds"
"The Messenger"
"A Serious Man"
"Up"
Best Animated Feature Film
"Coraline"
"Fantastic Mr. Fox"
"The Princess and the Frog"
"The Secret of Kells"
"Up"
Best Foreign Language Film
"Ajami" (Israel)
"The Milk of Sorrow" (Peru)
"A Prophet" (France)
"The Secret in Their Eyes" (Argentina)
"The White Ribbon" (Germany)
Best Art Direction
"Avatar"
"The Imaginarium of Doctor Parnassus"
"Nine"
"Sherlock Holmes"
"The Young Victoria"
Best Cinematography
"Avatar"
"Inglourious Basterds"
"Harry Potter and the Half-Blood Prince"
"The Hurt Locker"
"The White Ribbon"
Best Costume Design
"Bright Star"
"Coco Before Chanel"
"The Imaginarium of Doctor Parnassus"
"Nine"
"The Young Victoria"
Best Film Editing
"Avatar"
"District 9"
"The Hurt Locker"
"Inglourious Basterds"
"Precious"
Best Makeup
"Il Divo"
"Star Trek"
"The Young Victoria"
Best Music (Original Score)
"Avatar"
"Fantastic Mr. Fox"
"The Hurt Locker"
"Sherlock Holmes"
"Up"
Best Music (Original Song)
"Almost There" from "The Princess and the Frog"
"Down in New Orleans" from "The Princess and the Frog"
"Loin de Paname" from "Paris 36"
"Take it All" from "Nine"
"The Weary Kind" from "Crazy Heart"
Best Sound Editing
"Avatar"
"The Hurt Locker"
"Inglourious Basterds"
"Star Trek"
"Up"
Best Sound Mixing
"Avatar"
"The Hurt Locker"
"Inglourious Basterds"
"Star Trek"
"Transformers: Revenge of the Fallen"
Best Visual Effects
"Avatar"
"District 9"
"Star Trek"
Best Documentary Feature
"Burma VJ: Reporting from a Closed Country"
"The Cove"
"Food, Inc."
"The Most Dangerous Man in America: Daniel Ellsberg and the Pentagon Papers"
"Which Way Home"
Best Documentary Short
"China's Unnatural Disaster: The Tears of Sichuan Province"
"The Last Campaign of Booth Gardener"
"The Last Truck: Closing of a GM Plant"
"Music by Prudence"
"Rabbit a la Berlin"
Best Short Film (Animated)
"French Roast"
"Granny O'Grimm's Sleeping Beauty"
"The Lady and the Reaper"
"Logorama"
"A Matter of Loaf and Death"
Best Short Film (Live Action)
"The Door"
"Instead of Abracadabra"
"Kavi"
"Miracle Fish"
"The New Tenants"