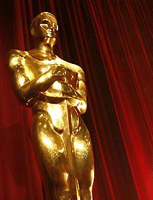 Last year we tried out AwardsPicks.com's Oscar pool and it went well enough, so we're going back to the well once again this year.
I've altered the scoring system to give more weight to categories that are perceived as a bit more difficult to project.  The winner gets a ton of swag that I've accumulated over the year.  Too much stuff to name, but off the top of my head there are the scripts for "(500) Days of Summer," "The Hurt Locker," "Julie & Julia" and "Up," T-shirts featuring "Star Trek" and "A Christmas Carol," a handsome behind-the-scenes of "Amelia" hardcover book and a big "Bad Lieutenant: Port of Call New Orleans" hardcover with production stills and the script inside.
Lots of goodies.  Head on over to our group's main page and join it if you haven't already done so, then join the 2010 Academy Awards game, then click "make picks" and you're set!