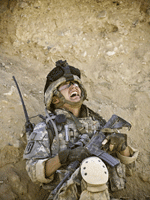 I forgot to sit down and take a look at my year-in-advance predictions for this year and see how I did.  Not too great.
In the Best Picture field (before the announcement of an expanded category, mind you), the only film I listed that made it through was "The Hurt Locker." Kathryn Bigelow was also the only director I correctly projected, so that's 1/10 and 1/5 in the top two categories.
Morgan Freeman, Carey Mulligan, Matt Damon and Penelope Cruz were the only actors I got correct, while in the screenplay categories it was just "An Education," "A Serious Man" and "Up."
All in all, including the crafts categories, I got 24 nominees of the 88 I predicted in 18 categories.  I've lost track of how well I've done with this silly experiment over the years, but I don't think that's one of the better tallies.  Maybe it is.
Which brings me to this announcement.  After a lot of consideration I've decided to forgo my nearly decade-old process of predicting the nominees a year in advance.  There will be no post-Oscar assessment of the year ahead.  The reasons are plenty.
First and foremost, who fucking cares?  Am I right?  Also, it's a pain in the ass to have a slate of predictions in the sidebar throughout the first half of the year and into the summer, because generally speaking, I'm not comfortable digging back into things until July or August.  So the pressure is on to update consistently when there isn't a whole lot to take into account.
I may not even bother with my annual massive collective of contenders (which I know for a fact numerous outlets use to glean and frame their looks at the race from afar).  It's just a lot of work at a time when I'd frankly rather be winding down, but I haven't totally given up on that yet.  Maybe.
Anyway, back to report card stuff, as I mentioned this morning, I nailed 85 of 116 predicted nominees (94 of 116 with alternates) and 35 of the 45 major category nominees (40 of 45 with alternates).  I haven't exactly covered all the terrain out there, but I think that's tops in this little corner of the web.  Go me, I guess.  Guy, meanwhile, nailed 78 of the 106 nominees he predicted, a noble stat by anyone's measure.
How did you do?