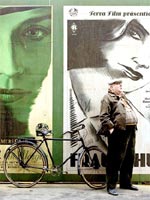 I've already highlighted my favorite aspects of this morning's Oscar nominations. Still, before we move into Phase Two, I'd like to give one final respectful nod to the could-have-beens — the names that we sadly won't be talking about anymore in the next five weeks of speculation.
I listed my true favorites in my dream ballot over the last few days, though many of those were never in the realm of possibility. What follows are 10 contenders who were very much in the mix, and had every reason to be disappointed this morning.
From my perspective, the race is poorer without the following:
• Marvin Hamlisch (Best Original Score), "The Informant!": As a previously honored veteran of the branch, I thought his foot was comfortably in the door. Was his playful score too tongue-in-cheek for the voters? I'd say the movie wasn't well-liked enough, but these are the guys who nominated "The Village." (Less surprising but still disappointing: the omission of "A Single Man" composer Abel Korzeniowski.)
• Samantha Morton (Best Supporting Actress), "The Messenger": That surprise screenplay nod indicates there was keen support for the film in the Academy, so it's a shame that didn't extend to its most resonant performance — in a category, moreover, that was obviously in considerable flux.
• Anthony Mackie (Best Supporting Actor), "The Hurt Locker": Best Supporting Actor, on the other hand, remained rigidly unchanged from Globes to SAG to BAFTA, despite seeming softer than any other race. A showing for the frontrunner's secret weapon would've been a nice shake-up.
• Stanley Tucci (Best Supporting Actor), "Julie & Julia": They fluffed this category so badly I feel obliged to give it two mentions. Sure, Tucci himself wasn't snubbed, but I have yet to speak to anyone who prefers his mannered psycho in "The Lovely Bones" to his wry rock of support in Nora Ephron's comedy.
• "Mary and Max" (Best Animated Feature): Okay, so this never seemed that likely to begin with. But after the Academy stunned pretty much everyone with a nod for little-known Irish pic "The Secret of Kells," can the year's best animated film have been far behind?
• Greig Fraser (Best Cinematography), "Bright Star": Okay, so this is stretching my "realm of possibility" definition a little. But there was a fifth slot on that ballot that could have gone anywhere, and did: to the good-looking sixth installment of a fantasy franchise. Fraser would've been a more daring surprise.
• David Wasco (Best Art Direction), "Inglourious Basterds": It's unfair but unsurprising that Wasco's contemporary designs for "The Royal Tenenbaums" and "Kill Bill" went unnominated. But this was lavish period work on a rock-solid Best Picture nominee — what does he have to do to catch a break?
• "District 9" (Best Makeup): I thought the sci-fi actioner had the showiest and most story-serving makeup effects of the year, but BAFTA didn't see what I saw, and neither did the Academy. What am I — or they — missing? (Semi-related side note: where did it go in the sound categories?)
• "The Beaches of Agnes" and "Mugabe and the White African" (Best Documentary): I admit I haven't seen all the competition. But these shortlisted titles were also the two docs that stuck with me most all year — and it would have been sweet to see 81 year-old master Agnes Varda finally go to the ball.
Amazingly enough, there are no near-misses for Best Picture that I'm really crushed about. (Plenty of long shots, but that's another story.) Maybe, within its extreme limitations, The Ten did its job after all. Who are you missing in this year's nominee list?