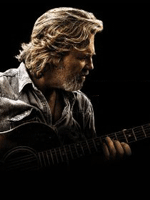 With "Crazy Heart" expanding more throughout the country and expecting, no doubt, a bit of an exposure bump after Tuesday's Oscar nominations announcement, Fox Searchlight is stepping up its game and doing a nice job of getting the music out there.
I stumbled across TheWearyKind.com last week, a nifty bit of social networking that allows musicians (of any level of talent, believe me) to upload their cover of Ryan Bingham and T Bone Burnett's theme from the film.  The first video on the grid is Bingham performing it at the Los Angeles press day, but the second one I hadn't seen.  It's Jeff Bridges performing it in front of Peter Travers (I think).  The rest are user entries.
Meanwhile, RecordStoreDay.com is offering up a contest whose winner I'd be incredibly jealous of.  The prize: an Epiphone AJ-200S acoustic guitar autographed by Bridges, Burnett and Bingham (suddenly I'm aware of the alliteration on this project).
We'll see tomorrow if the film can manage surprise nominations for Best Supporting Actress, Best Adapted Screenplay and/or Best Picture, but for now, the road is pretty well paved for Bridges (who showed up at last night's Grammys to introduce a performance tribute to Les Paul).