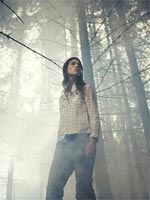 Yesterday, I began my far-fetched wishlist of nominees for tomorrow's announcement with a look at the technical categories. Today we move into the big races. And as much as I thought I had my favorites clearly mapped out in my head, a rundown of the eligible titles made for some very crowded races indeed.
Once again, I've mostly played by the Academy's own criteria, considering only U.S. releases from 2009 — hence the slight discrepancy with my Top 10 from December. But where certain titles seemingly never made it through the administrative red tape guarding Oscar eligibility, I've intervened on their behalf. (Films as good as "Summer Hours" can't go unmentioned, after all.)
Check out my picks after the cut, and share your own last-minute thoughts and hopes in the comments. My final predictions are coming shortly.
Best Picture
"Antichrist"
"Bright Star"
"Disgrace"
"The Hurt Locker"
"Mary and Max"
"Public Enemies"
"Sugar"
"Summer Hours"
"35 Shots of Rum"
"Where the Wild Things Are"
Well, the Academy has gone up to 10, so I may as well play along. Doesn't increase the likelihood of a match between my lineup and the Academy's, however — only one film here will show up tomorrow morning, but I've made my peace with that. I discussed these choices in greater detail in my Top 10 of 2009 list.
Best Director
Lars von Trier, "Antichrist"
Jane Campion, "Bright Star"
Kathryn Bigelow, "The Hurt Locker"
Claire Denis, "35 Shots of Rum"
Spike Jonze, "Where the Wild Things Are"
Honestly, I'm not forcing the gender issue, but the heartening truth is that by sheer coincidence, three of the year's most striking directorial visions came from long-serving female directors on top form. Best of all, they couldn't be more distinct or diverse: Bigelow's urgent, tightly wound helming style is a million miles from the more ruminative delights of Denis's storytelling, while Campion revisited thematic territory from earlier in her career with renewed clarity and compassion. Bookending this trio are two iconoclasts at their most playful: Jonze finally finding his heart, and von Trier spilling his in messily compelling fashion.
Best Actor
Matt Damon, "The Informant!"
John Malkovich, "Disgrace"
Max Records, "Where the Wild Things Are"
Jeremy Renner, "The Hurt Locker"
Christoph Waltz, "Inglourious Basterds"
A really stacked category this year, so apologies upfront to Colin Firth, Joaquin Phoenix and Willem Dafoe, all of whom are equally worthy of notice. The five I have chosen, however, represent a range of actors at vastly differing stages in their careers all giving the performances of their lives — no small statement when it comes to Malkovich, whose stunningly precise detailing of the emotional self-destruction of an Afrikaner academic is the year's great lost contender. Damon, meanwhile, unexpectedly found his stride in neurotic comedy. Records' appreciably tricky human anchoring of a fantasy and Renner's cool, calm shouldering of "The Hurt Locker" represented two very different breakthroughs, but no actor announced himself louder in 2009 than Waltz, controlling an unruly film with serene menace and a gleeful dose of camp.
Best Actress
Abbie Cornish, "Bright Star"
Charlotte Gainsbourg, "Antichrist"
Jessica Haines, "Disgrace"
Carey Mulligan, "An Education"
Tilda Swinton, "Julia"
Nothing has irritated me more this season than the constant chorus that 2009 was "a weak year for actresses," as pundits, critics and voters alike obstinately buried their heads in the sand to avoid noting some of the year's most challenging performances. That Swinton and Gainsbourg's ferocious actorly bravado in "difficult" vehicles went unnoticed is sad but predictable; more surprising is the lack of attention afforded to Cornish, whose youthful candor lends "Bright Star" its sharp edge. South African actress Jessica Haines made the year's most impressive debut, but no one noticed; happily, fewer critics were caught napping on Carey Mulligan's beguiling breakthrough. Also marvelous and unsung: Catalina Saavedra, Michelle Pfeiffer and Brenda Blethyn.
Best Supporting Actor
Michael Fassbender, "Inglourious Basterds"
Rupert Friend, "The Young Victoria"
James Gandolfini, "Where the Wild Things Are"
Brian Geraghty, "The Hurt Locker"
Anthony Mackie, "The Hurt Locker"
Many of these performances have been unfairly overshadowed all season by the work of their co-stars. While it's perhaps understandable that the dry wit and studied poise of Fassbender's character sketch in "Inglourious Basterds" would be elbowed out of the spotlight by the meatier turn of Christoph Waltz, poor Rupert Friend has had to stand back and watch several precursor mentions go to the actress from whom he quietly stole every scene. If Anthony Mackie's sternly conscientious presence in "The Hurt Locker" has received less than its due this season, Brian Geraghty's more openly vulnerable turn has, sadly, been bypassed entirely. Finally, Gandolfini's tender, tortured monster proves an actor need not be physically present to reach you. Narrowly missing the cut: Stanley Tucci in "Julie & Julia."
Best Supporting Actress
Marion Cotillard, "Public Enemies"
Alycia Delmore, "Humpday"
Nicole Dogué, "35 Shots of Rum"
Mo'Nique, "Precious"
Rosamund Pike, "An Education"
So much wonderful work vying for inclusion here: sympathetic shout-outs to Samantha Morton, Jennifer Aniston, Juliette Binoche and Jennifer Lawrence. Sometimes, however, the hype machine gets it right, and Mo'Nique's lightning-bolt of truth and conflict in an overly pat, disingenuous film is worthy of every laurel heaped upon it. No less impressive is Rosamund Pike, crafting a weary, unexpectedly knowing character from the thin air of reaction shots and sideways glances; Dogué's yearning part-time lover is a similarly gorgeous miniature. Cotillard and Delmore both bring bruised sweetness to male-dominated ensembles, and come out tops in the process.
Best Original Screenplay
Jane Campion, "Bright Star"
Mark Boal, "The Hurt Locker"
Adam Elliot, "Mary and Max"
Olivier Assayas, "Summer Hours"
Claire Denis and Jean-Paul Fargeau, "35 Shots of Rum"
The Academy may have ruled Campion's work an adaptation, but her elegant revision of the life of John Keats through a woman's eyes is plainly an original creation. Mark Boal wove first-hand research into a script whose unusual vignette-based structure neatly reflects the daily grind of its protagonists. Adam Elliot daringly brought a child's-eye perspective to harsh adult concerns of identity and sexuality, with wry, warped comic results. Rounding out the group are two loose, limber and sneakily affecting ensemble pieces from leading French auteurs. So close: "Sugar," "A Serious Man" and "The White Ribbon."
Best Adapted Screenplay
Henry Selick, "Coraline"
Anna-Maria Monticelli, "Disgrace"
Scott Z. Burns, "The Informant!"
Armando Iannucci, Jesse Armstrong, Tony Roche and Simon Blackwell, "In the Loop"
Spike Jonze and Dave Eggers, "Where the Wild Things Are"
Usually quite a tame category, but enlivened this year by two of the most thorough, adventurous feats of adaptation in recent memory. Burns's idea alone of twisting a sober factual thriller into a jaunty comedy of errors deserves credit, but he also pulls it off with nimble dexterity. Meanwhile, Eggers and Jonze risked disaster by constructing an entirely new narrative for one of the most beloved books of all time, but emerged with something both independent of, and loyal to, its source. Monticelli took a more faithfully effective approach to a great novel, while first-timers Ford and Scearce added an intriguing cinematic construct to theirs. Honorable mentions for "A Single Man," "An Education" and "He's Just Not That Into You."
Best Foreign Language Film
"About Elly" (Iran)
"Mother" (Korea)
"A Prophet" (France)
"Terribly Happy" (Denmark)
"The White Ribbon" (Germany)
Since I've mostly played by the Academy's rules with this ballot, so I thought I'd make my selections here from the eligible submissions — especially since my true favorite foreign-language films are in evidence elsewhere. (That said, if "A Prophet" were a 2009 U.S. release, it'd be all over this ballot.) Within those restrictions, however, it's still possible to compile an interesting list: "Terribly Happy," a jet-black comic thriller with genre twists of western and noir, is a particularly unsung entry.
Best Animated Feature
"Coraline"
"Mary and Max"
"A Town Called Panic"
The Academy may have expanded this category to five nominees this year, but I still think three is a perfectly adequate number — even if this was a stronger year than most for the artform. Even with five slots, chances are the Oscars still won't find room for "Mary and Max," easily the year's most sophisticated, innovative animated work. Only next to this film does Henry Selick's mordant, macabre "Coraline" appear the conventional choice. Even in this company, however, the delightful Belgian curio "A Town Called Panic" remains a raggedly eccentric outsider.
Best Documentary Feature
"Afghan Star"
"The Beaches of Agnes"
"The Cove"
"Mugabe and the White African"
"Valentino: The Last Emperor"
Not an authoritative list, since there are some prominent titles I have yet to see. But if any of them match the joyful cinematic ramble of Agnes Varda's own career elegy, or the unadorned emotional directness of "Mugabe and the White African," then it will have been a very good year for the artform indeed. Content slightly trumps execution for me in "The Cove," but it's riveting all the same, while the incisive character-study doc "Valentino" deserves the same audience that turned out for "The September Issue."
That's that, then. For those of you keeping score, "Where the Wild Things Are" leads my ballot with 13 nominations, "The Hurt Locker" follows with 10, while "Bright Star" and "Antichrist" land seven each. Oh, if only.
Color me ecstatic if the smallest fraction of these names and titles hear their names called tomorrow. If you missed the first part of my ballot, catch up here.