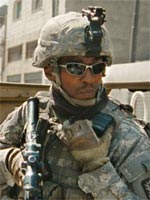 Right, there comes a point every year in predicting the Oscar nominations when you realize you're just shuffling names to dodge commitment. I've reached that point, so it's time to put myself out my misery.
Kris has already had his say — and stolen some of my best guesses from last week in the process. Okay, I kid because I love. It's comforting, in fact, to have his very sensible company on calls like Diane Kruger for Best Supporting Actress, or "The Road" for Best Cinematography.
That said, however, there are still numerous areas of the ballot still driving me crazy. I discussed my uncertainties in last week's Long Shot column, but the last few days haven't given me any more confidence when it comes to those pesky final two Best Picture slots.
Though logic goes against me, I can't shake the feeling that "Invictus" will miss — how many people are putting it at the top of their ballots? However, between the likes of "The Blind Side," "The Hangover," "Crazy Heart," "Star Trek" and "The Messenger," no one title emerges as a clear spoiler.
I also feel very hazy still about my Best Supporting Actor predictions: I reluctantly caved on Christopher Plummer, though something still screams "snub" about his dozy performance to me. And Anthony Mackie is my wildest of wild card picks — but like Michael Shannon last year, there's often a nominee that bucks the precursors, and Mackie could surf in on a wave of goodwill for "The Hurt Locker."
Other niggles pepper the list. I've reverted to the consensus pick of Helen Mirren for the fifth Best Actress spot, though I'm not sure if I have reasonable grounds for thinking her vulnerable, or if it's just because I think she isn't terribly good in "The Last Station." I've also plumped for dubious "Avatar" nods in the screenplay and song races, though an element of reverse psychology might be at play there.
Anyway, time to let go. Unlike Kris, I enjoy going out on the occasional limb. Being right is so much more fun when you're in a minority, and being wrong … well, you should know by now, that I'm quite accustomed to the feeling. I'm not bothering with alternates: I don't want to risk looking even further off-target than I need to. (And if they're right, they still don't count.)
My final predictions for the 2009 Academy Award nominations:
Best Picture
"Avatar"
"Crazy Heart"
"District 9"
"An Education"
"The Hurt Locker"
"Inglourious Basterds"
"Precious"
"Star Trek"
"Up"
"Up in the Air"
Best Director
James Cameron, "Avatar"
Neill Blomkamp, "District 9"
Kathryn Bigelow, "The Hurt Locker"
Quentin Tarantino, "Inglourious Basterds"
Jason Reitman, "Up in the Air"
Best Actor
Jeff Bridges, "Crazy Heart"
George Clooney, "Up in the Air"
Colin Firth, "A Single Man"
Morgan Freeman, "Invictus"
Jeremy Renner, "The Hurt Locker"
Best Actress
Sandra Bullock, "The Blind Side"
Helen Mirren, "The Last Station"
Carey Mulligan, "An Education"
Gabourey Sidibe, "Precious"
Meryl Streep, "Julie & Julia"
Best Supporting Actor
Alec Baldwin, "It's Complicated"
Woody Harrelson, "The Messenger"
Anthony Mackie, "The Hurt Locker"
Christopher Plummer, "The Last Station"
Christoph Waltz, "Inglourious Basterds"
Best Supporting Actress
Vera Farmiga, "Up in the Air"
Anna Kendrick, "Up in the Air"
Diane Kruger, "Inglourious Basterds"
Mo'Nique, "Precious"
Samantha Morton, "The Messenger"
Best Adapted Screenplay
"District 9"
"An Education"
"Fantastic Mr. Fox"
"Precious"
"Up in the Air"
Best Original Screenplay
"Avatar"
"The Hurt Locker"
"Inglourious Basterds"
"A Serious Man"
"Up"
Best Art Direction
"Avatar"
"Harry Potter and the Half-Blood Prince"
"Inglourious Basterds"
"Public Enemies"
"The Young Victoria"
Best Cinematography
"Avatar"
"The Hurt Locker"
"Inglourious Basterds"
"The Road"
"The White Ribbon"
Best Costume Design
"Bright Star"
"Coco Before Chanel"
"Inglourious Basterds"
"Public Enemies"
"The Young Victoria"
Best Film Editing
"Avatar"
"District 9"
"The Hurt Locker"
"Inglourious Basterds"
"Star Trek"
Best Makeup
"District 9"
"Star Trek"
"The Young Victoria"
Best Music – Original Score
"Avatar"
"Fantastic Mr. Fox"
"The Informant!"
"Star Trek"
"Up"
Best Music – Original Song
"I See You" from "Avatar"
"Somebody Else" from "Crazy Heart"
"The Weary Kind" from "Crazy Heart"
"Almost There" from "The Princess and the Frog"
"Down in New Orleans" from "The Princess and the Frog"
Best Sound Editing
"Avatar"
"District 9"
"The Hurt Locker"
"Star Trek"
"2012"
Best Sound Mixing
"Avatar"
"District 9"
"The Hurt Locker"
"Inglourious Basterds"
"Star Trek"
Best Visual Effects
"Avatar"
"District 9"
"Star Trek"
Best Animated Feature
"Cloudy With a Chance of Meatballs"
"Coraline"
"Fantastic Mr. Fox"
"The Princess and the Frog"
"Up"
Best Foreign Language Film
"Ajami" (Israel)
"A Prophet" (France)
"The Secret in Their Eyes" (Argentina)
"The White Ribbon" (Germany)
"Winter in Wartime" (The Netherlands)
Best Documentary Feature
"The Beaches of Agnès"
"Burma VJ"
"The Cove"
"Food, Inc."
"Mugabe and the White African"
ANTICIPATED TALLY:
11 – "Avatar"
10 – "Inglourious Basterds"
9 – "The Hurt Locker"
8 – "District 9"
7 – "Star Trek"
6 – "Up in the Air"
4 – "Crazy Heart," "Precious," "Up"
3 – "An Education," "Fantastic Mr. Fox," "The Princess and the Frog," "The Young Victoria"
2 – "The Last Station," "The Messenger," "Public Enemies," "The White Ribbon"
1 – "2012," "Ajami," "The Beaches of Agnes," "The Blind Side," "Bright Star," "Burma VJ," "Cloudy With a Chance of Meatballs," "Coco Before Chanel," "Coraline," "The Cove," "Food, Inc.," "Harry Potter and the Half-Blood Prince," "The Informant!," "Invictus," "It's Complicated," "Julie & Julia," "Mugabe and the White African," "A Prophet," "The Road," "The Secret in Their Eyes," "A Serious Man," "A Single Man," "Winter in Wartime"