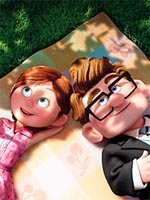 As the music world celebrated the general awesomeness that is Taylor Swift last night, Oscar-minded Hollywood couldn't resist infringing on the proceedings slightly. When Jeff Bridges even crops up at the Grammy Awards (to introduce a Les Paul tribute), you just know that he's this year's chosen one.
Bridges at least acquitted himself with dignity, something that sadly couldn't be said for another Oscar hopeful, Quentin Tarantino, who came dressed (to steal blatantly from Joe Reid) as "Retired in Miami Elvis" and pimped his movie in a hopped-up intro to a Lil' Wayne performance. To be fair, however, he was present as a nominee, though "Inglourious Basterds" lost the Best Compilation Soundtrack award to "Slumdog Millionaire."
Yes, last year's Oscar champ isn't done winning awards yet, as "Jai Ho" also beat Bruce Springsteen and Karen O to the Best Film/TV Song award.
But to bring the discussion a little more up to date, Michael Giacchino added another pair of trophies to the already considerable collection he has amassed for his "Up" score, taking Best Score Soundtrack honors, as well as Best Instrumental Composition for the film's "Married Life" theme. When even the Grammys fall in line with the precursor awards, it's hard to see Giacchino being denied the Oscar at this point.
And we're not done making Oscar connections to the Grammys, as impending host Steve Martin was also honored last night, taking Best Bluegrass Album for "The Crow/New Songs for the Five-String Banjo." What a hero.