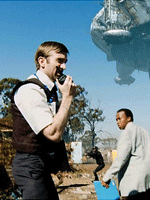 So this Steve Pond piece, titled "How Oscar Could Surprise — and Scare — Us," is what we like to call hedging our bets.  It's a chance to address some bubble matters so that we have something to point to and say, "Look, I toldja!"
(Is that officially trademarked by Nikki Finke yet?)
Anyway, I do like the guessing game fun, and Pond touches on a couple of things that I would likely mention if I were to do a similar piece.  One we can all understand is his #10, the potential snub of "Invictus" in the Best Picture category.  It has kind of been in the water for a few weeks now that the film just isn't as strong as it could be, likely lacking passionate top tier votes.  It is, frankly, in the #10 spot on my list of final predictions.
I do like Pond's mention of Sharlto Copley as a potential Best Actor spoiler, but failing to even make the longlist with BAFTA (a group that wasn't shy on the "District 9" love) makes the actor (who gave the year's best lead actor performance in my book) the darkest of dark horses.
You already know I'm thinking Lone Scherfig and the "In the Loop" writers are sleeper possibilities in the director and adapted screenplay categories.  Pond mentions them as well.  But I would love to see "Mary and Max," one of the year's best films, pop up in the animated feature category.  In my mind, if animators are paying any attention whatsoever, that would be a cakewalk win for the film.  Good on you for bringing that one back around one more time, Steve.
As far as nightmare scenarios, I think his #1 choice says it all: "'The Weary Kind' from 'Crazy Heart' not receiving a nomination for Best Original Song."  I would weep, then I would break something.  Something expensive.  But in the way of wishful thinking, I'd like to mention how much I would love a true shocker like "Depression Era" slipping in.  Alas, we all know, it's not going to happen.  But something from the fringe of that category's list of 63 eligible contenders could, like, as Pond notes, "Dove of Peace" from "Bruno."
If I were to add my own bet-hedging possibilities, it would be the following:
• Quentin Tarantino is usurped in Best Original Screenplay category by "The Hangover" or, better yet, "(500) Days of Summer" misses instead (which would really make me sing).
• British affinity for "An Education" makes it a dominant force, landing nominations for directing (mentioned above), costume design and lead actor (despite his campaign) Peter Sarsgaard.
• "Nine" manages to stay afloat in the Best Supporting Actress category after all, but in Marion Cotillard's favor rather than Penelope Cruz's.
• "The White Ribbon" is the surprise of the main categories, landing Best Director and Best Original Screenplay nominations for Michael Haneke.
• Finally, guild favorite "Julie & Julia" manages to make good on its steady line of support and goodwill on the way to nominations for Best Picture, Best Supporting Actor, Best Adapted Screenplay and Best Film Editing.
Any last minute surprise calls on your part?  My colleague Sasha Stone like to call them "no guts, no glory."  Have at it in the comments section.