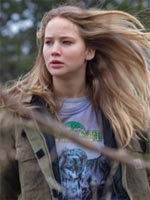 Talk about a good day for female filmmakers. Hours before Kathryn Bigelow's history-making triumph at the DGA Awards, Debra Granik took the Grand Jury Prize at Sundance (in the U.S. Dramatic strand) for her critically lauded sophomore feature "Winter's Bone." Granik and co-writer Anne Rosselini also took screenwriting honors for the film.
The film is one I had highlighted last month as a title to watch, so I'm glad to see it living up to expectations. I'm an admirer of Granik's 2004 debut "Down to the Bone," which put Vera Farmiga on the map — hopefully, "Winter's Bone" can similarly boost the fortunes of young Jennifer Lawrence, who so excelled in "The Burning Plain" earlier this year.
Granik's film stars Lawrence as a resilient teenager searching for her missing father in the Ozark Mountains. Comparisons have already been made to Courtney Hunt's "Frozen River," which took the same award at Sundance two years ago.
The corresponding Grand Jury Prize winner in the documentary category was Sebastien Junger and Tim Hetherington's debut effort "Restrepo," a chronicle of one year in the lives of the Second Platoon in Afghanistan's deadly Korengal Valley.
In the World Cinema strand, David Michôd's "Animal Kingdom," an Australian crime drama whose ensemble includes Guy Pearce, triumphed in the dramatic section. Denmark's "The Red Chapel," a study of North Korea's political regime through the eye's of a Danish comedy troupe, took documentary honors.
Audience Award winners include "happythankyoumoreplease," a well-buzzed indie comedy that marks the directorial debut of "How I Met Your Mother" star Josh Radnor, as well as "Waiting for Superman," the latest doc from "An Inconvenient Truth" director Davis Guggenheim. The U.S. education system is Guggenheim's target this time.
Among other winners was Mark Ruffalo's first stab behind the camera, "Sympathy for Delicious," which took a Special Jury Prize in spite of a cool critical reception.
A few days ago, I idly wondered whether any of this year's Sundance prizewinners could ride their festival success all the way to awards season, as "Precious" and "An Education" have done this year. It's far too early to tell, of course. In the light of last year's impressive showing for "Frozen River," it could be worth keeping an eye on "Winter's Bone" — though distributor Roadside Attractions doesn't have much of a track record in that area.
Meanwhile, the title that emerged from Sundance with the loudest Oscar buzz was an out-of-competition entry: Lisa Cholodenko's lesbian-themed family dramedy "The Kids Are All Right," whose heavyweight cast includes Julianne Moore, Annette Bening and Mark Ruffalo. Nathaniel Rogers offers useful (and guarded) insight on the film here.
indieWIRE has a full breakdown of last night's awards ceremony. Full list of feature winners below.
Grand Jury Prize (U.S. Dramatic): "Winter's Bone"
Grand Jury Prize (U.S. Documentary): "Restrepo"
World Cinema Jury Prize (Dramatic): "Animal Kingdom"
World Cinema Jury Prize (Documentary): "The Red Chapel"
Audience Award (Dramatic): "happythankyoumoreplease"
Audience Award (Documentary): "Waiting for Superman"
World Cinema Audience Award (Dramatic): "Undertow"
World Cinema Audience Award (Documentary): "Wasteland"
Directing Award (Dramatic): Eric Mendelsohn, "3 Backyards"
Directing Award (Documentary): Leon Gast, "Smash His Camera"
World Cinema Directing Award (Dramatic): Juan Carlos Valdivia, "Southern District"
World Cinema Directing Award (Documentary): Christian Frei, "Space Tourists"
Waldo Salt Screenwriting Award: Debra Granik and Anne Rosselini, "Winter's Bone"
World Cinema Screenwriting Award: Juan Carlos Valdivia, "Southern District"
Special Jury Prize (Dramatic): "Sympathy for Delicious"
Special Jury Prize (Documentary): "Gasland"
World Cinema Special Jury Prize (Dramatic): Tatiana Maslany, for her performance in "Grown-Up Movie Star"
World Cinema Special Jury Prize (Documentary): "Enemies of the People"
Cinematography Award (Dramatic): Zak Mulligan, "Obselidia"
Cinematography Award (Documentary): Kirsten Johnson and Laura Poitras, "The Oath"
World Cinema Cinematography Award (Dramatic): Mariano Cohn and Gastón Duprat, "The Man Next Door"
World Cinema Cinematography Award (Documentary): Kate McCullough and Michael Lavelle, "His & Hers"
Documentary Editing Award: Penelope Falk, "Joan Rivers—A Piece Of Work"
World Cinema Documentary Editing Award: Joëlle Alexis, "A Film Unfinished"
Alfred P. Sloan Prize: "Obselidia"
NEXT Award: "Homewrecker"