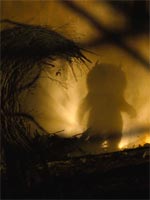 As I did last year, I'm preparing for Tuesday's announcement of the Oscar nominations by running through my own favorites in each category — following on from the ideal ballots posted by Kris and Chad in the past few weeks.
"Preparing" isn't quite the word: it implies a link between the processes of predicting and wishing, whereas I'm quite aware that most of my choices have scant chance of cropping up on Tuesday morning. But a guy can dream, can't he?
Today I'm running through the technical races, while tomorrow I'll get to the big ones. For the most part, I'm sticking to the same format and rules for nominations as the Oscars, with a few select exceptions.
Where some worthy 2009 U.S. releases are mysteriously absent from the Academy's eligibility list, I'm not letting that stop me from giving them their due. Similarly, I'm happy to overrule some of the more inexplicable disqualifications of the arcane music branch.
My technical ballot after the cut.
Best Cinematography
Anthony Dod Mantle, "Antichrist"
Greig Fraser, "Bright Star"
Barry Ackroyd, "The Hurt Locker"
Agnès Godard, "35 Shots of Rum"
Lance Acord, "Where the Wild Things Are"
A tremendous field from which to choose this year: "The White Ribbon," "Broken Embraces," "Il Divo," "A Single Man" and "Sugar" were all vying for a place. Two films, however, rose effortlessly to the top: Anthony Dod Mantle realized Lars von Trier's nightmare vision with shimmery, balletic grace, while rising talent Greig Fraser brought crisp, bracing textures to a very contemporary-looking costume drama. Ackroyd's multi-camera approach is less pretty, but resourcefully enables the flow of action, Acord while beautifully realizes and updates the dusky palette of Maurice Sendak's iconic illustrations. Finally, Godard's fluid, honey-toned compositions furthered (and possibly closed) a marvelous longtime collaboration with director Claire Denis.
Best Art Direction
Janet Patterson, "Bright Star"
Nelson Lowry, "Fantastic Mr. Fox"
Nathan Crowley, "Public Enemies"
K.K. Barrett, "Where the Wild Things Are"
Christoph Kanter, "The White Ribbon"
In something of a banner year for animated work in this category, Lowry's wittily detailed miniaturization of the world of Wes Anderson stood out. Barrett seemingly drew on nature and contemporary architecture to create an environment both distinct from, and loyal to, that of the film's beloved source material. Doing double-duty as both production and costume designer on Jane Campion's Keats biopic, Patterson made a virtue of budgetary constraints, crafting interiors that look as lived-in as they do stripped-down; Kanter's reconstruction of pre-WWI village life is similarly minimal yet exhaustive. Crowley, meanwhile, brings a burnished, muscular grandeur to Depression-era America. Another chockfull category; honorable mentions for "Moon," "A Single Man," "A Serious Man" and "Coraline."
Best Costume Design
Janet Patterson, "Bright Star"
Sonia Grande, "Broken Embraces"
Beatrix Aruna Pasztor, "The Brothers Bloom"
Odile Dicks-Mireaux, "An Education"
Colleen Atwood, "Public Enemies"
From the candy-colored, self-consciously designed creations of Fanny Brawne to Brown's muddy tartans, Patterson's work on "Bright Star" is far more character-attuned than the usual ruffled corset-porn that crops up annually in this category. The HD camera of "Public Enemies" picks up every thread of Atwood's sharply tailored wardrobe, so it's just as well not one is out of place. Dicks-Mireaux's duds appear simply chic, but capture crucial details of class and culture. Finally, two couture-heavy contemporary titles impressed: Pasztor borrows from an assortment of eras to serve her film's dainty sense of quirk, while Grande looks to film noir and fashion mags to make an impeccable clothes-horse of Penelope Cruz. Honorable mentions for "Cheri," "Where the Wild Things Are" and "Bruno."
Best Editing
Asa Mossberg and Anders Refin, "Antichrist"
Chris Innis and Bob Murawski, "The Hurt Locker"
Cristiano Travaglioli, "Il Divo"
Joan Sobel, "A Single Man"
James Haygood and Eric Zumbrunnen, "Where the Wild Things Are"
While Innis and Murawski were charged with sculpting a lean, tense narrative from countless hours of multi-camera footage, Mossberg and Refin faced the different but no less formidable challenge of negotiating and balancing the wild mood swings of "Antichrist." Travaglioli lets fly a barrage of stylized, kinetic cutting technique that abets the sly humor of Paolo Sorrentino's political biopic; the relatively unheralded Joan Sobel's work is similarly heightened, but to far sleeker, woozier effect. Finally, Haygood and Zumbrunnen cleverly bridge two worlds with pointed symbolic and rhythmic echoes. "35 Shots of Rum," "A Serious Man" and "The Informant!" were also in the mix.
Best Makeup
"District 9"
"Drag Me to Hell"
"Il Divo"
Honestly, not the most exciting year for this category: the lurid spectacle of Sharlto Copley's prawn metamorphosis in "District 9" ought to win in a walk, and probably will. "The Imaginarium of Doctor Parnassus" could possibly make the lineup if I was in a different mood.
Best Original Score
Marvin Hamlisch, "The Informant!"
Clint Mansell, "Moon"
Abel Korzeniowski, "A Single Man"
Tindersticks, "35 Shots of Rum"
Karen O and Carter Burwell, "Where the Wild Things Are"
After a rather lackluster 2008, film composers really took it up a notch last year. I can hardly believe that I have no room for 26 year-old prodigy Mark Bradshaw ("Bright Star"), but there you go. The Academy may have declared "Where the Wild Things Are" ineligible in this category, but I refuse to play by their inexplicable rules: alternately brooding and dementedly joyous, Karen O and Carter Burwell found a fitting musical language for Sendak's wild rumpus. On the opposite end of the spectrum is Korzeniowski's score was a thing of stately, sweeping beauty, while Hamlisch's gleefully kitsch 70s pastiche sits somewhere in the middle. Mansell continues to bridge the classical and the avant-garde to spine-tingling effect, while UK band Tindersticks' latest collaboration with Claire Denis is sheer witching-hour magic.
Best Original Song
"The Weary Kind" from "Crazy Heart"
"You've Got Me Wrapped Around Your Little Finger" from "An Education"
"All is Love" from "Where the Wild Things Are"
"Hideaway" from "Where the Wild Things Are"
Since the Academy now does the same, I reserve the right to curb the number of nominees in this category: for me, only four tracks creatively served their surrounding films while also emerging as outstanding compositions in their own right. Fortunately, they are four very good ones. I still have trouble choosing between the boundless, naive singalong of "All is Love," which becomes a rousing anthem for the film as a whole, or the melancholy intimacy of "Hideaway," which underpins its loveliest individual sequence. Beth Rowley's sweetly sultry composition for "An Education" is so seamlessly integrated into the backdrop that many mistook it for a vintage cut. Finally, "The Weary Kind" not only has to relay an entire life through music, but also has convince as a veteran musician's magnum opus.
Best Sound Mixing
"Avatar"
"Antichrist"
"The Hurt Locker"
"Il Divo"
"Paranormal Activity"
Best Sound Editing
"Antichrist"
"District 9"
"The Hurt Locker"
"Paranormal Activity"
"Where the Wild Things Are"
Yes, I can tell the difference between sound mixing and sound editing. But since there's such overlap in my choices for these two categories, one paragraph will suffice. I admit to getting a perverse thrill from placing the playful, zero-budget sound design of "Paranormal Activity" alongside the all-that-money-can-buy sonic fireworks of "Avatar," but they're equally essential to their films' audience seductions. Another horror title, "Antichrist," made tingly use of simple resources, densely woven. A true artist of the medium, Paul Ottosson took both mixing and editing duties on "The Hurt Locker," pummelling the viewer with sound to conveying the everything-at-once sensation of the war zone.
Best Visual Effects
"Avatar"
"District 9"
"Where the Wild Things Are"
One of those years when an argument could easily be made to expand the category to five nominees, though these three are comfortably my favorites. I hardly need to explain the inclusion of the boundary-pushing "Avatar," even if I personally found the more jaggedly traditional effects work of "District 9" more aesthetically pleasing. "Where the Wild Things Are," meanwhile, has received less than its due in this department, perhaps because it employs its effects to such casually character-serving effect.
Okay, that's it for today — I'll run through my picks in the main categories tomorrow. For those of you keeping score, "Where the Wild Things Are" leads my wishlist with eight nominations, while "The Hurt Locker" and "Antichrist" follow with four each. (I wasn't expecting such a gap.) What are your favorites in the technical categories? Have at it below.