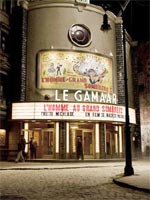 • In the biggest upset of the season so far, "The Hurt Locker" came up trumps at the PGA Awards.
• "Inglourious Basterds" took the top prize at the SAG Awards, which also gave another boost to Sandra Bullock.
• With Oscar nominations out next week, we listed some of the greatest nominee fields in Oscar history.
• Off the Carpet took stock following the weekend's precursors, and Kris revised his winner predictions.
• The Long Shot pondered some potential surprises in next week's nominations.
• We paid tribute to the dearly departed Miramax Films.
• We interviewed the one-off that is Quentin Tarantino.
• "Avatar" continued its pulverizing box-office reign. Does Mel Gibson's latest pose any threat?
• The last of the guilds, the Costume Designers Guild, announced some, uh, interesting nominations.
• Looking to the year ahead, Tim Burton was named this year's Cannes jury president.
• Meanwhile, as Sundance winds down, we wondered if there's a "Precious"-size future contender in this year's fest.
• Off the Oscar beat, "A Prophet" landed a leading 13 nods for France's César Awards.
• We said goodbye to Jean Simmons and J.D. Salinger.
• Does "Inglourious Basterds" trivialize the Holocaust?
• Oscar Talk wrapped up the week's events, while previewing the crucial week that lies ahead.