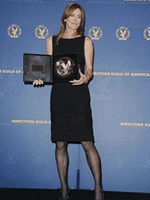 I don't want to be presumptuous and say something like, "It's time to call this thing," but it's difficult to argue with the two biggest guild crowns ON TOP OF the critical sentiment "The Hurt Locker" is dragging into phase two.
Kathryn Bigelow has won the DGA award for her work on the film, becoming the first woman to be awarded by the guild to date and taking one step closer to the same designation on Oscar night. (Louie Psihoyos won the documentary prize for "The Cove"). Left in the dust with its billions, it seems, is James Cameron's "Avatar," with nothing but a Golden Globe to its credit.
Sometimes a winner just looks like a winner. Not to take the intrigue out of it. But seriously, the money thing, it's just not hurting "The Hurt Locker," and perhaps the Oscars will serve a purpose in a year the Academy became craven enough to expand its field to allow for critical successes. An independent that barely brought in $12 million at the box office will get the exposure it deserves on a global stage and perhaps reach a new audience.
The irony is unbelievable. On to phase two.
(Photo of Bigelow holding nomination plaque, not winner's plaque.)