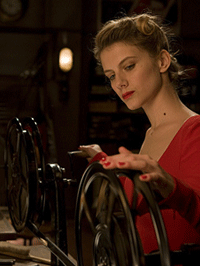 It's hard to believe we've almost made it to nomination morning. Over the past six months here at Tech Support, we've previewed all the races and interviewed several of the contenders. On Tuesday, we find out who advances.
In the way of final predictions, today I'll preview the art direction, cinematography, costume design and film editing categories. Tomorrow I'll address the makeup, music, sound editing, sound mixing and visual effects fields.
BEST ART DIRECTION

I should begin this category by stating that Rick Carter and Robert Stromberg's designs for "Avatar" are the sort often avoided in this category because so little is physically built. However, the look of the film has been so embraced, and the precursor citations have been so great, that I don't think the branch will be able to ignore them.
David Wasco has been unfortunately passed over by the Academy on many occasion. I'm nonetheless optimistic that "Inglourious Basterds" will end that trend. Wasco has guild and BAFTA nominations behind him, not to mention his most Oscar-friendly opportunity yet.
Two other films that managed to score at both BAFTA and the guild were both fantasy in nature, but I think only one will actually get in come Tuesday. Call it a hunch.
On "District 9," Philip Ivey created a slums community of Johannesburg in ways that are painfully non-fantastical at all. On the one hand, the film was incredibly realistic and seems to be very respected in the industry. But at the same time, it really could be described as almost contemporary and therefore not what we normally see nominated here.
Stuart Craig's designs on the "Harry Potter" series have been superb, and after the surprising nomination for "Harry Potter and the Goblet of Fire," it would be very dangerous to rule him out for "Harry Potter and the Half-Blood Prince," especially with guild and BAFTA nominations to his credit. The film is unlikely to score anywhere else but for a designer of Craig's caliber and reputation, that won't be much of an obstacle in and of itself.
These four films were joined at BAFTA by Terry Gilliam's "The Imaginarium of Doctor Parnassus." There can be no doubt that Gilliam has once again created an incredible world. On the one hand, it would be a great way to recognize this crew, which includes Gilliam himself. But on the other, I can't help wonder if the late release, and the failure to even get a fantasy nomination from the guild, will pose problems.
I suspect that these numerous superb fantastical candidates will ultimately keep "Star Trek" out of the race as well.
Two other films that scored period guild nominations had fine work but strike me as too subtle to ultimately get in with all the other huge period pieces and fantastical endeavors. I'm speaking of "Julie & Julia" and "A Serious Man." I might have a different opinion if the production designers were past nominees.
I do think at least one more period guild nominee will find a home here. Nathan Crowley, who has been nominated two of the past three years, is the best chance "Public Enemies" has for a nomination, in my opinion. The work is detailed, handsome and, if they want to cite the film anywhere, this would appear the most likely place.
On the other hand, Sarah Greenwood has also been nominated twice in recent years, for "Pride & Prejudice" and "Atonement." I think a nomination is a very strong possibility for recreating London of 100 years ago.
Two final notes: Despite failing to be cited by either BAFTA or the guild, I continue to believe that Dan Bishop has a strong chance at a nomination for "A Single Man." And it's interesting, I remember previously thinking John Myrhe was nearly assured of a citation here for "Nine." Now that looks very unlikely indeed.
Final predictions:
"Avatar"
"Harry Potter and the Half-Blood Prince"
"Inglourious Basterds"
"Public Enemies"
"Sherlock Holmes"
BEST CINEMATOGRAPHY

It's always a good idea to look at what the American Society of Cinematographers has cited in analyzing this category. The guild never misses more than two of the nominees.
I have very little doubt that Robert Richardson ("Inglourious Basterds") and Barry Ackroyd ("The Hurt Locker") will receive nominations. For Richardson, it's been a five year gap since his last win for "The Aviator." For Ackroyd, it's been a long time coming for nomination #1.
I'm normally skeptical about films with as much visual effects work as "Avatar" finding a home here. Perhaps the cinematographers don't like their monopoly on the camera being infringed? But not only has it won the BFCA award and earned an ASC nomination, it has become a behemoth of epic proportions. I'll be surprised if Mauro Fiore misses.
The two other ASC nominees have great chances at nominations, but aren't in as strong a situation. The fact that Christian Berger managed to earn an ASC nomination for a very small film in "The White Ribbon" is impressive.
On the other hand, Dion Beebe could fall victim to "Nine"'s cataclysmic descent. However, he has been nominated for both his previous efforts with director Rob Marshall and, watching the film, Best Cinematography struck me as the most likely place for it to find a home.  But there are other possibilities.
Lance Acord's lensing of "Where the Wild Things Are" was innovative, but that hasn't helped him in the past. Grieg Fraser's camerawork on "Bright Star," meanwhile, was praised, but people seem to have forgotten about the film entirely.
Stuart Dryburgh's photographing of "Amelia" is exactly the sort that normally gets nominated. But the film is hated.  And Edward Grau's capturing of the early 1960s on "A Single Man" was appropriately moody, but the film has not done nearly as well with the crafts guilds as I expected.
I'd ultimately look to two BAFTA nominees as most likely to upset the guild quintet, but they still have their drawbacks. Trent Opaloch truly put us in the middle of "District 9," but I fear the work is a tad gritty for this branch. Javier Aguiressarobe, meanwhile, is in a similar position for "The Road." While he may have a better shot as he's somewhat due for a nomination, he also has the problem of relatively few people having seen his film.
I think ultimately think we're looking at a matching lineup with the guild.
Final predictions:
"Avatar"
"The Hurt Locker"
"Inglourious Basterds"
"Nine"
"The White Ribbon"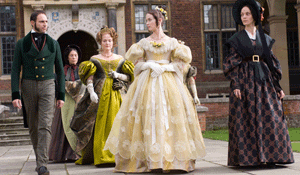 BEST COSTUME DESIGN

Here is a category, where I see two likely nominees, and MUCH uncertainty beyond that. Recent years in the costume field have shown a dominance of corsets and the like, often worn by royalty. This year looks like it will be no exception, with Sandy Powell leading the way with "The Young Victoria." Powell has, remarkably, been nominated only once before this year by her guild.  I have little doubt she'll take that nomination, and her BAFTA nod, to her eighth mention from AMPAS.
Powell's principal rival for dominance in the costuming world in Hollywood is Colleen Atwood, another two-time winner I expect to get her eighth nomination this year for "Nine." While the film has crashed and burned, Atwood's name, and the nature of the costumes, should get her to the finish line.
For some reason, I'm cautiously optimistic that Jenny Beavan will find a home here for "Sherlock Holmes." Famous for her Merchant-Ivory work, Beavan rarely does blockbusters. But this film was a huge hit and, with a guild nomination, it seems like an appropriate time to welcome her back.
Anna B. Sheppard has been cited twice before for World War II films and "Inglourious Basterds" was her showiest opportunity yet. So I was somewhat surprised to see her miss the guild nomination. However, she has never been cited by the guild to date and, given the BAFTA nod and a surefire Best Picture berth, I'd think it's more likely than not that she will get Oscar nod #3 on Tuesday.
Catherine Leterrier designed the classic threads on "Coco Before Chanel" and has done quite well in the precursors. There's usually a first time nominee in this category every year and nd she's likely best-placed.
Alternatively, Odile Dicks-Mireaux could ride her BAFTA nomination to an Oscar citation for "An Education." But BAFTA was always going to embrace this film. I doubt AMPAS will follow suit. At least not in this category.
Ann Roth managed to earn a guild nomination for "Julie & Julia," so it would be foolish to rule her out. But despite a career now in its sixth decade, Roth's nominations are actually relatively infrequent ("only" four), and I somehow doubt this film is going to join the ranks of "Places in the Heart," "The English Patient," "The Talented Mr. Ripley" and "Cold Mountain."
Arianne Phillips managed a BAFTA nomination for her classy and appropriate work on Tom Ford's "A Single Man." A citation is certainly possible. But I'm skeptical given the number of contenders.
I should add that, despite a guild nomination, I really do not expect Mayes C. Rubeo & Deborah Lynn Scott to score for "Avatar." If they do, it's a sign of a film getting votes everywhere because it is a simple way to fill out one's ballot.
Monique Prud'Homme, who I interviewed a few weeks ago, did very innovative work on "The Imaginarium of Doctor Parnassus." After a CDG nomination, I wouldn't be shocked to see her show up for a film which has received a fair number of citations from awards bodies here and there.
Lastly, I should mention Janet Patterson. If anyone can survive "Bright Star"'s somewhat surprisingly disappointing awards season, it should be her. She received a BAFTA nomination and has been nominated for two previous Campion efforts. But it's still far from a sure thing.
Final predictions:
"Coco Before Chanel"
"Inglourious Basterds"
"Nine"
"Sherlock Holmes"
"The Young Victoria"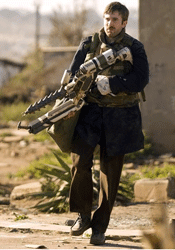 BEST FILM EDITING

The film editing category historically mirrors the Best Picture race at the Oscars for the most part, with action films, war films and musicals also scoring with frequency. It is completely possible that the five ACE Eddie nominees for drama will line up perfectly, as they did last year. Here, we see a nice blend of the typical nominees:
Stephen E. Rivkin, John Refoua and James Cameron for "Avatar" (a surefire Best Picture nominee, also filled with action); Julian Clarke for "District 9" (a very possible Best Picture nominee, also filled with action); Bob Murawski and Chris Innis for "The Hurt Locker" (a surefire Best Picture nominee, also filled with action); Mary Jo Markey and Maryann Brandon for "Star Trek" (a possible Best Picture nominee, a massive hit, and clearly filled with action); Dana E. Glauberman for "Up in the Air" (a surefire Best Picture nominee, classily cut).
However, I still think Sally Menke ought to be able to return to the game for "Inglourious Basterds." Despite the snub from the guild, the film is clearly heading towards a Best Picture nomination, and it was edited like only a Tarantino film can be edited.
"Star Trek" and "Up in the Air" strike me as most vulnerable, the latter because it's editing is not as obvious as the fellow ACE nominees and the former because I'm skeptical of three huge action blockbusters getting in, and "Distirct 9" and "Avatar" seem to me to be on safer ground.
The only other significant possibility, in my opinion, is Joel Klotz for "Precious." But, though one never knows, I really think it's between the aforementioned six.
Final predictions:
"Avatar"
"District 9"
"The Hurt Locker"
"Inglourious Basterds"
"Up in the Air"
Tune in tomorrow for the final six tech forecasts.