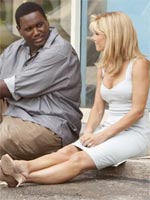 With less than 72 hours until Oscar nominations are announced, prediction lists are coming through thick and fast. Kris and I will have our final predictions up on Monday, while Gerard's technical picks will be scattered throughout the weekend. (I'll also enter dreamland for a while and offer up my fantasy ballot at some point.)
Roger Ebert, meanwhile, is the latest big name to join the pile. As we've come to expect from the critic, his predictions are a blend of the rationally reasoned and the borderline insane. (Werner Herzog's "The Bad Lieutenant: Port of Call New Orleans" has an outside shot at a Best Picture nomination, apparently. Right.)
Most interesting to me, however, is his conviction in "The Blind Side," which he labels a can't-miss Best Picture nominee. (He also calls Sandra Bullock a "sure thing" to win Best Actress.)
I've been wondering myself whether the megahit could show up in The Ten on Tuesday morning, surprising (and enraging) a lot of pundits in the process. As lightweight populist contenders go, it's certainly baitier than "The Hangover," albeit less critically tolerated. As I said on Wednesday, there's just no way of telling which way those final three spots will go.
Meanwhile, his Twitter followers will already know that Ebert strongly opposes the idea of a Best Picture win for "Avatar," in spite of his own four-star review of the film. In case you hadn't heard, however, he restates his case here:
I suppose it's the front-runner. If it won, that will be a sad day. Yes, it's a phenomenon and I loved the experience. But the best film? Not compared to those other titles, it isn't. To be seen to advantage, it needs big-screen 3-D. A DVD viewing will remove much of its impact, leaving many home viewers asking, What was the big deal?
Check out his predictions here. Other pundits who have weighed in in the past few days include Movieline's Jack Matthews, indieWIRE's Peter Knegt and Scott Feinberg.