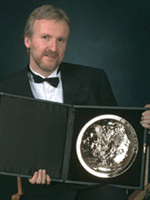 I have none, really.  If I'm pressed for a prediction, I think James Cameron is going to pull off what will be perceived as an upset for reasons mentioned in today's Oscar Talk and a number of weeks back when I said J.J. Abrams was a threat for a nod (and I've come to find out he was actually pretty close).
The answer is in the populist leanings of the guild, a vast, diluted membership that is TV-heavy, rules against sending screeners (which is a definite thorn for Kathryn Bigelow, whose film pulled down minuscule box office), etc.
So the race will be back and forth one more weekend and the real victor of the week might well be the film that ends up with the most Oscar nominations Tuesday morning.  The epic of David and Goliath will turn one more page at that time as we make our way through February and, ultimately, Oscar's stage, when the Academy of Motion Picture Arts and Sciences will be asked to anoint a representative from the class of 2009 to represent the best in filmed art and entertainment.
But will it be art, or will it be entertainment?  The saga continues…