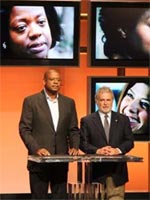 Richard Roeper prefaces his Oscar predictions with the following suggestion to spice up the nominations announcement:
They race through the lists at 5:30 a.m. PST, in order to get live coverage on the morning talk shows. That's just stupid.

As I've suggested before, the Academy should turn the nomination announcements into a one-hour special, to air on E! or some other cable channel. Build up excitement by showing clips and interviewing possible nominees. Have some cameras on set or in the homes of some contenders, to catch their reactions. If they can do it with the Heisman Trophy every year, why not the Oscars?
The Grammy Awards have gone in a similar direction with their nominations special, though the Oscars obviously wouldn't have musical numbers to pad things out. I'm all for making a bit more of an occasion out of the announcement, though the idea of catching some nominees' (or, worse, non-nominees') reactions live is super-tacky. After the cut, Steven Spielberg will show you why.