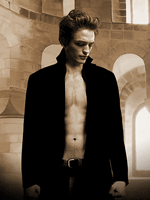 This just arrived via press release.  Talk about your refreshingly diverse list of contenders.
Predicting the Academy's Best Original Score category can often be a bit of a chore.  There is no "guild" for the composers, after all, nothing to serve as a barometer.  For the longest time you could generally count on the group to be quite insular, and they still are to an extent, but as of late, they have also been a bit more open to newbies.
The only other thing we have to go by is the International Film Music Critics Association, which isn't much to go by at all, really.  You can look over the group's five years of nominee announcements and see rather quickly that it's an artfully-minded assemblage.  In a nutshell, "Drag Me to Hell" won't be get to call itself an Oscar nominee, but it's cool to see it pop up here.  "Twilight," on the other hand…maybe.
Michael Giacchino received a record nine nominations himself, including in the top field, which you can see below.  For the rest, head on over to The Circuit.
Film Score of the Year
"Avatar" (James Horner)
"Drag Me to Hell" (Christopher Young)
"Star Trek" (Michael Giacchino)
"The Twilight Saga: New Moon" (Alexandre Desplat)
"Up" (Michael Giacchino)