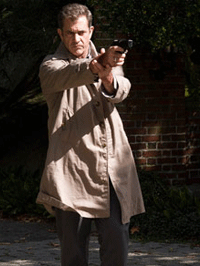 *All historical figures cited are adjusted to today's dollars.
Lucky weekend number seven for "Avatar." The top spot beckons once again and James Cameron will surely oblige. Another slim drop of 20% would give the wild blue wonder $26.2 million and put $600 million within it's grubby little grasp.
The only thing remotely standing in the way is the return of Mel Gibson, after an 8-year hiatus from leading roles. His last time in front of the camera and above the title was in "Signs," which grossed $292.7 million and happens to be the biggest hit of his entire career. So technically, the man is on a roll.
In fact, not counting his small part in "The Million Dollar Hotel," Gibson's last 12 pictures have all crossed the $100 million mark, dating back to "The Man Without a Face." Say what you want about his Jew-hating, but he is one seriously bona fide movie star.
"Edge of Darkness" bears more than a passing resemblance to both "Taken" and Gibson's own "Payback." Warner Bros. quickly pounced onto the release date of the former, which debuted with $24.7 million and then showed remarkable staying power through the Spring.  The latter opened in February 1999 to $31.2 million. Splitting the difference would give "Edge of Darkness" $28 million, but I think Gibson's star has fallen enough to make that impossible. I'm thinking more like $23 million and second place.
Disney has "When in Rome," which stars Kristen Bell and a weird collection of supporting males. Romantic comedies are a dime a dozen in the market and audiences seem to be fine with revisiting the one where Meryl Streep sleeps with Alec Baldwin and not Stanley Tucci. I think this one will be lucky to get $11 million.
And that's all you get. "Fish Tank" finally opens in Los Angeles so I have something to see but if you're anywhere else in America, good luck. Go bowling or something. Play outside.