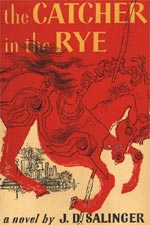 How eerily sad that exactly one year ago, I wrote a short piece mourning the passing of John Updike, one of my literary heroes and chief inspirations to become a writer. Today, the news has arrived that J.D. Salinger, the man joining Updike at the top of my personal pantheon, has followed him to the smoky writer's study in the sky.
January 27 is clearly not a lucky day for American literature.
I first read "The Catcher in the Rye" when I was 10 years old. As banal as it is to say, and as innumerable as the people are who have said the same thing before me, it's a book that changed my life. I suspect Holden Caulfield has served as a guide for many a curious child into the daring delights of "grown-up books," but it wasn't just the character or the story that held me in thrall — it was the flip, jazzy elegance of the writing itself.
As a kid whose twin passions were reading and watching movies, Salinger taught me that a book could read like a movie, that prose could bend and bounce like verbal dialogue.
That Salinger forbade Hollywood from ever getting its paws on "The Catcher in the Rye," perhaps one of the most cinematic American novels ever written, is both a supreme irony and a blessing: no actor or screenwriter could meet or exceed the myriad definitions of cool that Holden Caulfield wrote in millions of readers' heads. Holden himself had some fairly strong opinions about the crimes wrought by filmmakers upon defenceless works of literature — and we can only hope future generations respect his, and his creator's, wishes, once copyright subsides.
That said, my resistance to the idea of a Salinger adaptation is hypocritical. As a 16 year-old, I entered my high school's annual festival of one-act plays with a 30-minute stage version of Salinger's short story "A Perfect Day for Bananafish." I'd penned the adaptation myself, and was pretty damn proud of it — it was the first script of any shape or form that I'd written. The play was a strange beast for a school drama competition, performed in a happy mixture of South African and American accents, with a complex system of sliding screens to separate indoor and outdoor locales. Looking back on it a decade later, I'm not sure what got into me.
But the audience liked it, the judges liked it, and we won the competition — at least in part encouraging me to continue with this scriptwriting lark. Whether Salinger would have liked it is another matter. Still, I hope he can forgive me my audacity and see what I got from his work.
Rest in peace, sir.