One of the best parts of the film awards season, for me, has always been the print advertising artwork of "For Your Consideration" ads in trade publications.  They feature a studio advertising department's best foot forward on creatively reaching the AMPAS audience and generally make for some striking imagery.
Though I have to say, I find myself consistently wondering how much longer they will be a mainstay.  The transition to online focus is becoming more and more evident.  After all, Paramount Pictures angled its awards budget mainly toward online outlets this year.  There wasn't a single trade ad for "Up in the Air" all year long and it has done just fine for itself this season.  I think that's a first (and an early promise I was surprised to see the studio make good on).  It'll be interesting to see if other studios follow suit.
Anyway, sorry for the tangent.  With all this in mind, an annual delight has always been Sasha Stone's round-up of FYC ads at Awards Daily.  A few years ago the gallery duties were handed over to Dora Kappou of Film-Releases.com, who's done a fine job of presenting the material in an attractive, easily navigable manner.  So which films were the cream of the FYC crop this year?
For my money, Warner Bros. had the best visual approach to all of its various contenders, each of them having a distinguishable, attractive style.  They even made "Invictus" look like the prestigious film we all thought it would be.  I even almost chose this ad for "The Hangover" as my best-in-show FYC of the year.  There's something about the way those honors and the still chosen seems to elevate the frivolous romp ever so slightly.
Focus Features also did well by its contenders, which brings me to my pick for the year's best FYC ad (and no, it's not because it's my favorite film of the year):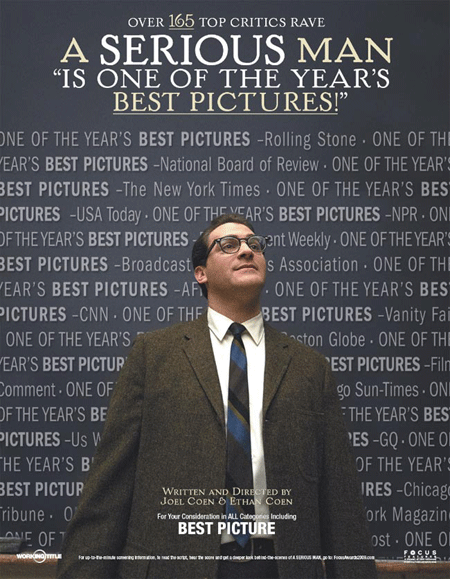 It's a clever usage of one of the film's more interesting compositions, replacing the chalk-scrawl of figures and theorems with the film's countless quotes of praise.  Class.
It'll be interesting to see what phase two turns up.