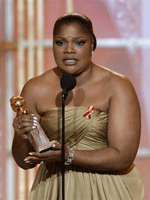 Yes, more of this.  But for the most part, this Vanity Fair/Little Gold Men piece from Mark Olsen on the season of Mo'Nique is spot on.  It reflects everything that is refreshing about her non-campaign campaign and, in quoting awards nut Tom O'Neil and unbalanced Mo'Nique basher Jeffrey Wells, it addresses the people she's driven crazy along the way — the people who won't really matter as her career (if she wants it to) skyrockets post-"Precious."
(Seriously, who has Mo'Nique pissed off that can "pay her back someday," as O'Neil puts it?  The elitist New york Film Critics Circle?  Come on.)
Knowing Olsen's personal feelings on the film (he is no fan in the slightest) also makes the piece land just right for me.  Yeah, Olsen is a good journalist who doesn't let bias show up in the course of his reporting, but I get the feeling he also believes that the need for breathless, saturated Oscar mugging is somewhat tacky, and the idea of someone like Mo'Nique coming along and bucking that trend, it's exciting.
Writes Olsen:
When The New York Times's David Carr, who has become a key anointer of Oscar talent with his awards-season profiles, wrote about Mo'Nique, the interview was not done in some hotel lobby or tasteful cafe in the media centers of Los Angeles or New York. Carr had to go to Atlanta. If you want me, Mo'Nique seemed to be saying, you have to come to me. And why not?

She did not attend the New York Film Critics Circle dinner, where she was bestowed a prize, but did attend The Los Angeles Film Critics Association dinner the night before the Golden Globes. At the Globes she picked up another award, and gave a movingly heartfelt speech that Drew Barrymore later declared onstage "set the bar" for thank-yous for the night. The next morning however, a photo from the red carpet began to circulate that showed Mo'Nique's legs as being unshaven. At every turn, Mo'Nique seems to challenge, consciously or not, the very foundation of how a sleek, supplicating awards-season actress should look or behave.
He then goes on to quote O'Neil — who tries to make the case that, since Mo'Nique isn't "among the gods of acting," like past non-campaigners George C. Scott and Sean Penn, her behavior is somehow unacceptable — and Wells — who offers his trademark charm on the matter and wonders why he comes off racist, all the while claiming marks against Mo'Nique because her performance wasn't "enjoyable" enough and "has no pizzaz."  It's still "award-calibre," though, so who knows what point he's trying to make (here or at any time throughout the season on the matter).
In any case, the matter has been written about ad nauseam and I really don't think there will be anything to add after this.  It's a nice summation, though I wish others had been quoted alongside the scorned.  But it's well worth a read.  Have a look here.