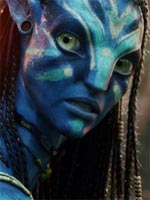 Perhaps I missed it, but I'm surprised there hasn't been more online conversation about EW writer Mark Harris's recent critical essay on "Avatar" and performance capture technology.As one would expect from the author of "Pictures at a Revolution," it's a thoughtful piece, but one that should stir up considerable dissent.
He begins by slamming James Cameron for suggesting that performance capture can be used to preserve an actor's physical features: "Will Smith could still make an action movie when he's 75 years old, looking like he looks now," Cameron stated, a thought that makes me as uneasy as it does Harris.
But the beef of Harris's argument comes when he turns his attention to "Avatar," and the widely praised performance of Zoe Saldana, who some (including my esteemed editor) think merits Oscar consideration.
No way, says Harris:
Cameron really loses me when he claims that these techniques capture "100 percent of what the actor does. Not 98, not 95—but 100 percent…Every nuance, every moment of their creation on set is preserved."

Zoe Saldana may be a fine actress, but I don't feel that her work in Avatar can fairly be labeled an onscreen performance. What I saw was a CG character created in very large part by an army of technicians; to me (and I know many disagree), Neytiri is a superb visual effect enhanced by an actor, not a performance enhanced by F/X. When Saldana was "playing" the role, she may have widened her eyes in fear or narrowed them in disgust; she may have recoiled in horror or crumpled in sorrow. Did she sigh, swallow hard, or express conflicting emotions? Beats me, since Cameron could easily have added, eliminated, or altered anything she did.
This is clearly set to be an an ongoing debate as the technology continues to be used — though it's not a brand new issue, similar discussion having surrounded Andy Serkis's performance in the "Lord of the Rings" trilogy several years ago. Just as there will always be those who don't consider animated voiceover work bona fide acting, and those that do — including, this year, the New York Film Critics, who awarded George Clooney jointly for "Fantastic Mr. Fox" and "Up in the Air" — it's difficult to see the doubters ever being persuaded.
I personally wouldn't consider Saldana for Best Actress either — but that's because I found the performance, digitally enhanced or otherwise, rather rigid. That's another conversation entirely. Then again, I'm perfectly willing to consider the wonderful James Gandolfini in "Where the Wild Things Are," or even work where an actor's face is buried under mounds of prosthetic makeup. When a performance-captured turn affects me as much as Saldana's does some critics, I'm happy to go there.