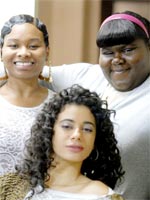 When (at this stage, I think it's safe to say "when") "Precious" and "An Education" land Best Picture nods on Tuesday morning, there will be an interesting trivia note to attach to the occasion: they'll be the first Sundance competition entries since 2001 to make it all the way to Oscar's top race.
Indeed, "Precious" will be the first Sundance Grand Jury Prize winner ever to score a Best Picture Oscar nod in the festival's 25-year history.
These are two interesting stats that aren't mentioned in AP writer David Germain's story on the relationship between Sundance and Oscar, which casts a more positive gaze on the number of overlaps between the two. And he's right to an extent: the past decade alone has given Oscar-watchers plenty of reason to keep a close eye on Sundance.
In the eight years since "In the Bedroom" became the last Sundance contender to crack the Best Picture lineup,  Sundance has presented a number of future Oscar contenders in acting and writing categories, including "Maria Full of Grace," "Hustle and Flow," "Junebug," "The Squid and the Whale," "Half Nelson" and, most recently, "Frozen River."
It also turns up documentary contenders on an annual basis — in 2008, its two top doc winners, "Man on Wire" and "Trouble the Water" went on to lead the Oscar race.
Meanwhile, the Oscar success out-of-competition Sundance premieres like "Little Miss Sunshine" and "An Inconvenient Truth" further the festival's strike rate.
Still, the fact that it's taken this long for a Sundance champion to enter the top Oscar race — and that only three others ("Frozen River," "American Splendor" and "You Can Count on Me") have been graced with Oscar attention at all — points up the very different ideals of festival jury members and the so-called "steak-eaters" in the Academy's ranks.
There's a world of difference between palatable, star-driven indies like "Little Miss Sunshine" that make the crossover easiest, and no-name, no-budget fringe efforts that struggle for attention even with Sundance gold under their belt. (Raise your hand if you saw "Quinceañera" or "Forty Shades of Blue." I'm betting few of you are Academy voters.)
In that respect, the manner in which "Precious" — a minority-focused film with some unsavory subject matter, and no prestige names attached — has followed through on its Sundance success does represent a breakthrough of sorts. With the Best Picture field at the Oscars having been broadened, could it pave the way for more modest Sundance hits? ("Frozen River" might well have found its way into a field of 10 nominees, after all.)
Chances are it could be a fluke. So far, some well-reviewed narrative features ("Cyrus," "Winter's Bone") have surfaced from this year's Sundance crop, but documentary "Catfish" seems to be the biggest talking point so far. Nothing yet is generating the level of crossover buzz that "Precious" or "An Education" enjoyed this time last year. Let's see.