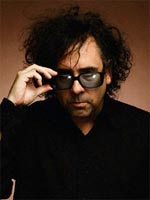 In a move that should remind some of his more disenchanted fans of the high esteem with which he is still held in the industry, Hollywood's resident kook-auteur Tim Burton has been tapped to head the jury of this year's Cannes Film Festival. He said in a statement:
After spending my early life watching triple features and 48-hour horror movie marathons, I'm finally ready for this … It's a great honor and I look forward, with my fellow jurors, to watching some great films from around the world. When you think of Cannes you think of world cinema. And as films have always been like dreams to me, this is a dream come true.
The selection makes him the first full-time American filmmaker to preside over Europe's most sanctified cinematic institution since Quentin Tarantino in 2004. (Actor-director Sean Penn took the gig two years ago). A more mainstream pick than usual, he's nonetheless one of the industry's most identifiable directorial brands, and therefore an obvious candidate for the position.
In keeping with festival tradition, he's a former Cannes alumnus of sorts, having competed for the Palme d'Or with "Ed Wood" in 1994 — the year "Pulp Fiction" came up trumps. (Was that really 16 years ago?)
Following this announcement, some will try to draw convenient conclusions about what type of films now have an advantage in this year's competition. But while the jury president can certainly exert a lot of influence on the race — it's widely assumed Isabelle Huppert tipped the balance towards her former collaborator Michael Haneke last year, while Tarantino openly favored "Fahrenheit 9/11" and "Oldboy" in 2004 — a safer rule of thumb, particularly when a filmmaker is in charge, is that the winning film will have little in common with the president's own oeuvre.
Four years ago, for example, Ken Loach's "The Wind That Shakes the Barley" was hardly an obvious choice from a jury led by Wong Kar-Wai. Neither, in 1996, did "Secrets and Lies" exactly scream "a Francis Ford Coppola film." What people make and what people like are not one and the same.
For Burton, meanwhile, the news comes as a healthy endorsement of his auteur credentials following criticism from some cinephile types, with "Alice in Wonderland" looming large, that he has lost his edge. As one of those who misses the shabby eccentricity of his earlier work — and who thinks he hasn't made a great film since "Mars Attacks!" in 1996 — I'm hoping this particular movie marathon excites his imagination.
The 63rd Cannes Film Festival takes place from May 12 to 23.