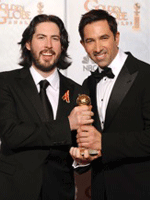 Wait, did Pete Hammond really say that "the bloggers" are responsible for the whole (sensationalized) Jason Reitman/Sheldon Turner dispute thing without noting that Steven Zeitchik, at Hammond's own outlet, was the one responsible for spurring the debate without having (or seemingly being interested in) certain facts?
Anyway, not that Hammond needed to be anything other than a showman when he moderated last night's WGA post-screening Q&A between Turner and Reitman, but let's not deflect too much here.  And I think Steve Pond is stretching matters a bit further when he writes that Reitman failed "to thank his credited co-writer" at the CCMAs last weekend.  Reitman clearly said "our screenplay," gestured to Turner and stepped away for him to speak when he was finished.  He wasn't conducting the band.
I wasn't going to bother with this whole mess because it was built on some sloppy journalism from the outset and serves to point a finger at something that isn't as big a story as certain parties would like it to be, but, too late.  Here I am doing it anyway.