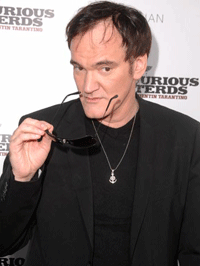 Nearing the end of January on an awards season run for a film that bowed at Cannes is an odd time to be crossing paths with a filmmaker to talk about the goods, but that's where I found myself with Quentin Tarantino this year.
Making the publicity rounds in the wake of the DVD and Blu-ray release of his film "Inglourious Basterds" and, of course, keeping exposure high with Oscar nominations eminent, Tarantino is nevertheless as indefatigable as ever.  Last week he popped up on one of Conan O'Brien's final episodes of "The Tonight Show," which the filmmaker says was an honor.  "I've always had a fun time doing his show," he says.
He was coming off a weekend that yielded Critics' Choice Movie Awards recognition for his film's ensemble, supporting actor Christoph Waltz and a screenplay honor for the writer/director himself at the time, but in the week since, Waltz and the ensemble were again rewarded, this time by the Screen Actors Guild.
The film awards circuit is a much different beast than it was 15 years ago when Tarantino exploded onto the scene with "Pulp Fiction," even if his long time confidant Harvey Weinstein is still at the campaign's helm.  So it's a little difficult not to press him for how those differences strike him, now that he's back in the season's good graces.
Interestingly enough, he's reminded of a similarity first.
"It seems like every time I make a movie, it's just so different than the last time I made a movie, everything that goes into selling it and all the promoting of it," he says.  "Every two years we jump to a knew place.  So I'm kind of used to feeling that way.  One of the things that's actually very similar is, back when it was the 'Forrest Gump,' 'Pulp Fiction' war, that was when the ceremony was March 27, so it was a real long, long period of time that you had going up to the Oscars and tons of events and that kind of stuff, so now with it being in March, it's similar to when I first did it."
Indeed, with the Winter Olympics postponing the usual Oscar timetable this year, things are a bit more reflective of the drawn-out times of yore.  But for Tarantino, it's never tiring.  It's all fun.  Even being a peripheral element of the season, as he was in 2003 when his close friend Sofia Coppola was making the rounds with "Lost in Translation," hitting the party and event circuit, showing his support, etc., Tarantino enjoys the ride at every turn.
One of the highlights of the red carpet gauntlet for Tarantino, being a life-long movie geek, is the opportunity to meet and converse with the filmmaking talent he continuously runs into throughout the season.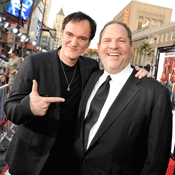 "Other filmmakers did really cool stuff this year," he says.  "You get to meet them, you get to talk to them.  I've gotten to know the other directors so well and a couple of them I actually knew beforehand.  But we've gotten so used to seeing each other now that it's really nice.  We always check in to see how each other is doing, we enjoy creative conversations together, it's really cool."
The other helmers that have been as prominent on the circuit this year as Tarantino are "Up in the Air" director Jason Reitman, "Precious" director Lee Daniels and two people he counts as heroes, "Avatar" director James Cameron and "The Hurt Locker" director Kathryn Bigelow.
So how does it feel to be in the company of heroes?
"It's wonderful," he says.  "Believe me I'm not trying to engage in false modesty, but James Cameron was really and truly a hero of mine.  I'll never forget the first time I saw 'The Terminator' at the Pacific Theater on Hollywood Boulevard.  I'll never forget seeing 'Aliens,' I couldn't get into the first show, it was like the third show of the day, at the Avco Embassy theater and it was just one of the great film experiences of my life.  And it's really cool when he comes up to me and greets me like an equal, that's really groovy.
"I've also always loved Kathryn's work.  I remember when I saw 'Near Dark,' I came home from working at the video store and I took a piece of paper and wrote, 'Kathryn Bigelow, queen of directors,' and she wrote the script with Eric Red, 'Eric Red, king of writers.'  I thought 'Near Dark' was the shit!  That murder scene in the bar, you have to remember, the 1980s was awful, and when that murder scene in the bar played, it was like, 'Oh my God, what did they let happen!"
The excitement is truly unmistakable, like a big kid who remembers these things like it was yesterday.  But one of the other great joys for the director this season has been seeing his cast recognized.  Christoph Waltz's laurels began way back in May when he won the Best Actor prize at the Cannes Film Festival.  Even for detractors of the film, Waltz's work is such a marvel it's difficult to argue against it.  How did Tarantino know he was the guy, though?
"Well it was such a specific character," he says, "and he had to have all these traits just in order to begin to play the character.  You have to be able to speak German, English, French, and not only do you have to be able to speak them, you have to be able to say my dialog inside of them.  My dialog is very tricky, and when you hear the people who do it well, it looks easy.  So you need those qualities to begin with, and it was just obvious, people weren't Landa.  He was that specific.  And I hate to make it this simple, but when Christoph walked in, he was Landa, and we all knew it.  And that's what you hope happens as a writer, you hope you haven't written something that's just going to be stuck on the page."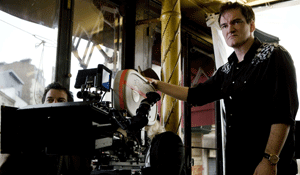 Most recently, the entire cast received an ensemble honor from the 93,000-member Screen Actors Guild, which Tarantino says made him feel fantastic.
"It was hard casting this movie," he says, "all these different languages, dealing with three different casting directors, and dealing with three different countries in that regard.  But the result was just so gratifying.  I'm so proud of every member of this cast.  And I love to see them getting these awards in unison.  That's wonderful."
Tarantino began working on "Inglourious Basterds" in the mid-1990s, so the wait has been considerable, both for the artist and for his fans.  He says it's definitely been worth the wait, but as an artist, he enjoys musing about what might have been.
"The movie I would have made eight years ago would be very different from this movie," he says.  "And who knows what that movie would have been?  I mean I had an idea, but truthfully, where TV is now, if it was that way in 1997, 1998, 1999, then I might have done 'Inglourious Basterds' as a mini-series, because that was my problem way back when.  It was just too long.  I couldn't be happier with the movie, but again, at the same time I like to muse, you know.  It would have been different."
As far as what's next for Tarantino, mum is the word for now.  "I'm keeping it close to my vest for the simple fact that everyone knew for 10 years what my last movie was going to be," he says with a laugh.  "And I kind of hated people bringing it up all the time!  I think I'll keep it a little quiet this go round."
I doubt that'll hold his fans at bay for long, but in the meantime, the awards run for "Inglourious Basterds" is enough to keep anyone busy.