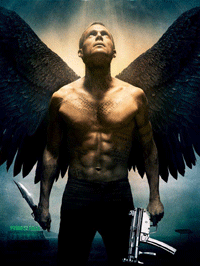 *All historical figures cited are adjusted to today's dollars.
Blah blah blah blah "Avatar" blah blah number one blah blah blah $36 million. Second biggest sixth weekend ever, behind "Titanic." $550 million+ in the bank, passing "The Dark Knight" and entering the top 10 highest grossing films of the modern era (1980 onward). The drop was only 16% from last weekend, which was a Holiday remember, and James Cameron's fart will go on and on and on.
"Legion" took the runner up spot with $18.2 million, and as I said on Friday, anything over $16 million would be a huge win. Sony just can't lose with this kind of product and it will join "Vantage Point," "21" and "Lakeview Terrace" as successful films that nobody will remember in two years. But anything that keeps Paul Bettany employed can't be all bad.
"The Book of Eli" drops 48% to third place and $17 million, which is pretty solid. With last Sunday's figures inflated by the holiday and word-of-mouth not expected to be great, things could have been a lot worse for Denzel and the Hughes Brothers.
"Tooth Fairy" failed to get off the ground, taking fourth place with $14.5 million and represents the second straight seemingly can't-miss family film to drop the ball. I'd say that maybe kids and parents are raising their standards but "Alvin and the Chipmunks: The Squeakquel" passed the $200 million mark on Saturday so…
Just to recap: Denzel Washington films to make $200 million = zero. Singing chipmunk films to make $200 million = two.
Perhaps if Harrison Ford didn't already work around the clock he could have convinced more people to go see "Extraordinary Measures." CBS Films went for broke with non-stop advertising but could only muster a $7 million debut. Even arbitrary references to "The Blind Side" couldn't help it find an audience. Maybe they should have combined storylines with Hugh Grant's "Extreme Measures" and had Ford and Fraser hire Gene Hackman to kill bums to get their miracle science done.
"The Lovely Bones" dropped 48% and is behaving like a standard January thriller release. "The Spy Next Door" is already out of the top 10, "Crazy Heart" started expanding slightly with success and Samuel Goldwyn released "To Save a Life" in 441 theaters without really telling anyone. $1.2 million and a spot outside the top 15 is how that strategy worked out.
Finally, 10 weeks after opening, we say goodbye to "The Blind Side," which fell out of the top 10 for the first time. Still, it only dropped 19% and is sailing towards $250 million. Perhaps I shouldn't be surprised since I was informed yesterday that it contains the single greatest piece of screen acting done by any female in the entire year of filmmaking. Acting teachers: amend those syllabi.
No movies for me again this week as January continues to pile on the misery. I will be checking out "Daddy Longlegs" on demand, though, direct from Sundance as soon as I can, and suggest you do the same.
What did you guys see?  Here are the weekend's top domestic grossers, courtesy of Exhibitor Relations: