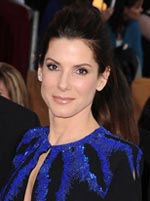 Gotta love all those B's, right? Overall, no real surprises — we knew Best Actress was going to be a close-fought contest between Meryl Streep and Sandra Bullock, and it's entirely likely that Streep's win last year tipped it towards Hollywood's new golden girl.
While the widely anticipated ensemble win for "Inglourious Basterds" makes no real difference to the Best Picture race, I think it's safe to say three of the acting Oscars can practically be engraved already.
This was George Clooney's last opportunity to stake his claim in the Best Actor race, but the perfect-storm combination of Jeff Bridges's shaggy likeability, overdue status and (lest we forget) a damn fine performance in "Crazy Heart" was too much to overcome.
Best Actress, as I said earlier today, will remain a mystery right up until the envelope is opened on March 7. The season's one remaining acting precursor, the BAFTA, won't reveal anything, given Bullock's ineligibility there.
So, for the next six weeks, we're left to ponder whether Academy voters actually buy the "Streep is overdue" story, or whether Bullock's unflappable charm on the campaigning circuit can push her across the finishing line. (Her heartfelt, goofy speech this evening was another home run.) But for the first time this season, I'd say the "Blind Side" star is out in front.
Other than that, nothing else from the proceedings stands out. Well, Marion Cotillard's dress, perhaps. Right now, it's 3:30 AM and my bed looks like a good place to be. Talk amongst yourselves, and play nice.
Best Ensemble: "Inglourious Basterds"
Best Actress: Sandra Bullock, "The Blind Side"
Best Actor: Jeff Bridges, "Crazy Heart"
Best Supporting Actress: Mo'Nique, "Precious"
Best Supporting Actor: Christoph Waltz, "Inglourious Basterds"
Best Stunt Ensemble: "Star Trek"