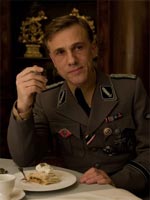 Funny, I could have sworn the SAG Awards were taking place on Sunday. Goes to show how on top of things I am, I guess. Or, perhaps, the level of excitement I feel over at least three cut-and-dried acting races this year.
Nevertheless, tonight's ceremony will be helpful in addressing at least one of this season's larger question marks: does Sandra Bullock really have a shot at the Best Actress Oscar? If, as I suspect will happen, Meryl Streep takes home her second consecutive statuette tonight, this race is all over bar the shouting. If Bullock (or even Gabourey Sidibe) snatches it, we really won't have a clue until the envelope is opened on March 7.
Unlike Kris, I think four decades of sterling, unrewarded work in Hollywood will send the SAG Award Jeff Bridges's way, even if "Crazy Heart" hasn't been as widely seen as "Up in the Air." Bridges is the kind of consummate actors' actor these awards were invented for. As for the supporting categories, well … is any discussion necessary?
One race, however, really could go any way. The smart money for Best Ensemble appears to be on the large, evenly weighted gang of "Inglourious Basterds," but I do find myself wondering if the collective might be a little  European for SAG tastes. "The Hurt Locker," on the other hand, stands to benefit if voters simply opt for the strongest Best Picture player in the mix — as they did with "Slumdog Millionaire" last year.
If they're not bothered by the amount of novice actors in the cast, "Precious" could well be the sentimental choice, while there are even some whispers that "Nine" could pull off an epic upset here. (No, I don't buy it either.) Only a win for "The Hurt Locker," I think, stands to influence the Oscar race at all.
Kris offered his predictions here. Spurred on by my spectacular showing at last week's Golden Globes, I added mine (along with TV categories) to the many compiled by Tom O'Neil — in case you missed them, here they are, along with my personal picks.
Best Ensemble
Will win: "Inglourious Basterds"
Should win: "The Hurt Locker"
Best Actor
Will win: Jeff Bridges, "Crazy Heart"
Should win: Jeremy Renner, "The Hurt Locker"
Best Actress
Will win: Meryl Streep, "Julie & Julia"
Should win: Carey Mulligan, "An Education"
Best Supporting Actor
Will and should win: Christoph Waltz, "Inglourious Basterds"
Best Supporting Actress
Will and should win: Mo'Nique, "Precious"
Best Stunt Ensemble
Will win: "Star Trek"
What are your guesses and/or hopes for tonight? Share them in the comments.