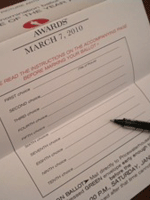 Steve Pond has WAY too much time on his hands, but God love him for his brilliant little experiment that illustrates, rather clearly, the importance of filling in the entire Oscar ballot with 10 films.  You hear that Oscar voters?  To say nothing of the fact that, if you can't come up with 10 films you liked in a given year, you should turn in your card, it is important now more than ever that you take this a little bit seriously.
Pond assembled all the ranked critics' top 10 lists at Movie City News and dished them out according to a typical preferential voting system, and he came up with a very important point in the midst of all that shuffling:
And here's the deal with my count: in two-thirds of the cases, 81 out of 122 ballots, all or part of the vote went to the critic's first choice. But second, third and fifth choices also counted fairly often (rarely fourth choices, though there's no good reason for that), and a dozen voters actually helped out candidates with their sixth, seventh, eighth and ninth choices.

Richard Roeper, for instance, unknowingly cast his vote for "Fantastic Mr. Fox," which was listed seventh on his ballot. Eric Kohn of indieWIRE did the same for "A Serious Man," which he'd put in his eighth slot.

Kohn's case was a typical example of how lower-ranked films can come into play. He'd put "Sita Sings the Blues" in his number-one position – but since he was the only one to do so, that film was eliminated at the beginning of the second round of tallying. His number two and three choices, "Two Lovers" and "The Girlfriend Experience," hadn't gotten any number one votes and thus were never in the running to begin with. His fourth-ranked film, "The Hurt Locker," got more than enough votes in the first round to immediately secure a nomination, so it no longer needed his vote. Finally, down in the number eight slot, was a film that was still in the hunt, and one that subsequently used his vote to help win a nomination.
Of course, I doubt most voters even understand the system, so here's hoping they read The Odds.  Pond goes on to address more of the system, like the surplus rule, but my head began to feel light and I had to sit down.
If you're interested in what the critics' Best Picture nominees would be based on this system of voting, here's what Pond turned up:
1. "The Hurt Locker"
2. "Up in the Air"
3. "A Serious Man"
4. "Inglourious Basterds"
5. "Up"
6. "Fantastic Mr. Fox"
7. "Precious"
8. "35 Shots of Rum"
9. "Avatar"
10. "The White Ribbon"
Read the rest at The Odds.