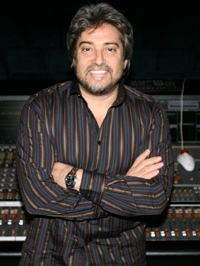 When you're coming off of one of the most elaborate and intensive sound mixing gigs in movie history, let alone of your own career, how do you top it with a sequel?
That's the challenge sound re-recording mixer Greg P. Russell faced when he and his team set about weaving in the various sonic elements of "Transformers: Revenge of the Fallen." His seventh collaboration with director Michael Bay, the film proved to be the most aurally ambitious film Russell says he has mixed to date.
"Back in the day when a large movie had three or four set pieces within a film, we have two set pieces within a reel now," Russell says in his spacious media room in his home, a number of Academy screeners stuffed into a basket on the coffee coffee table in front of him.  "And this was an eight-reel film, so you can just see the size factor alone."
Let alone the new variations in robot sounds and articulation, the amount of artillery and weaponry featured on the screen this time around dwarfed anything Russell had ever seen before.  According to one of the film's technical advisers, Bay filmed every aircraft that exists in the military save for one.
"Everything from helicopters to hover boats to aircraft carriers to submarines, the artillery alone just from a human level was enormous," Russell says.  "Then you add on top of that massive robots and their weaponry and all their intricacies, it's a very complicated movie to bring to life."
Potentially adding to the challenge was the fact that, after ending a 19-year professional relationship with mixer Kevin O'Connell in 2008, Russell welcomed a new face to the Bay community in Gary Summers.  But being a seven-time Oscar nominee (and a four-time winner), Summers obviously wasn't going to throw up red flags for anyone.
"I really enjoyed working with Gary," Russell says.  "Granted, I had a wonderful run with Kevin and I'm very proud of the work we did together all those years.  But Gary brought his own experience.  I wanted someone who wouldn't get rattled by Michael, someone who could go toe-to-toe with a very high-energy director and not be intimidated.  Gary was certainly able to do that."
By way of explanation of the two mixers' duties on the film, Summers was tasked with mixing dialog and score elements, while Russell was once again in charge of integrating the wide array of sound effects elements designed by sound editors Ethan Van Der Ryn and Erik Aadahl.  Working with the same sense of rhythm and tempo (the sound effects and score have that sonic flow in the film for a reason) was something Russell was happy Summers was acutely aware of.
"The robots were a driving force in the film, and all of their components are very rhythmical," he says, before illustrating a "Shoom-tack-chock-cack-cow!" with his voice.  "And those rhythms speak to you clearly when you hear a sound sequence.  When they fall into place just right, it feels right, it makes sense, it becomes believable, it's actually what makes things really cool and elegant, from the very smallest of robots to the very largest, that these rhythms all synchronize together."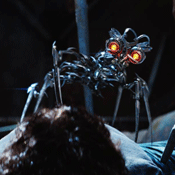 Musically there are similar flexibility concerns, as Steve Jablonsky's score arrives in divided pieces, percussion here, brass there, so the mixing team can modify the score and implement it to serve the overall soundscape of the film.
"One of the biggest parts of my job as an effects mixer is trying to be very articulate with what we are hearing on screen, but also having a lot of density to clean things up and take things out," Russell says.  "It's a lot of fun, challenging, but very gratifying.  Each and every day we get to play with a big video game."
And Russell speaks of his craft consistently with that undeniable enthusiasm and passion.  "I used to just say get it all up on screen, paint with a roller first," he says. "Then we'll start to cut in, we'll get the five-inch brush and start to detail that out.  And then work our way right on down to a single bristle to get the slightest nuance and detail.  It's all about shape.  It starts kind of in a rougher form and we scale things back as we go."
Russell began working on promo reels and pre-dubbing (the process of laying out the various tracks to be used in the final mix) in January of 2009.  The effects he was using had been recorded by Van Der Ryn, Aadahl and their team upwards of a year prior.
"They really like to get fresh, new recordings on these particular films," Russell says of the sound editors.  "The vehicles are so specific.  They create an entire world of sounds, recording everything from Erik's icebox door, which became a big component, to Optimus Prime's footsteps."
Twelve weeks of preparation alone and then Russell and Summers finally sat together at the mixing table to work on the final track, which took another month.  All in all, it was one of the longest post-production schedules Russell has ever endured.  And yet, after all of that hard work, much of it rather undeniable in its craftsmanship, how does it feel when it is dismissed entirely by the critical fraternity?
"It's always tough when critics attack a film," Russell says.  "This film I truly believe was made for the fan base.  There was a sentiment after the first film that people wanted more robots and more action and more Megan.  However that evolves as a story, that's what they got.  They got a bigger version of the first film.
"The people that spoke to me that loved 'Transformers' had a ball watching the movie, the fun of watching a movie.  I think that, sure, the studio would love to see across-the-board raves for a film, but for this movie to have made over $400 million, people are going back.  You don't do that number unless people are continually going back, so there was something right about it.  I know how hard it is for a filmmaker to spend two or three years bringing a film to the screen.  You have the box office reflection of people's satisfaction to a film and you have the critical aspect of it.  This fired on all cylinders with the box office end of it and hopefully the next one will kind of address both."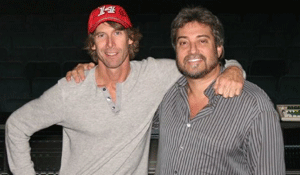 And "Transformers: Revenge of the Fallen" wasn't the only gig Russell had this year, mind you.  In addition he also worked once again with Ron Howard on "Angels & Demons," he mixed the animated film "Cloudy with a Chance of Meatballs" and had things like "Armored" and "Confessions of a Shopaholic" scattered throughout.
It all made for an interesting transitional year in a sense, as the industry vet found himself working with a number of collaborators for the first time, such as Tom Fleischman and Michael Semanik.
I use the opportunity to ask Russell for his thoughts on the year's work in sound mixing.  Russell was the only people who told me last year that "Wanted" was a film to watch in the sound categories, so for the hard core prognosticators, it's worth noting his thoughts on his colleagues' work.
"I think 'Star Trek' was a great job this year," he says.  "I thought they did a very nice job with that film, both with sound design and with an editorial mix.  I thought '2012' was another bold sound job, how to bring to life the end of the world scenario, and try to bring something fresh to it.  Paul Ottosson was the supervising sound editor, who did a wonderful job on 'The Hurt Locker,' which I thought was a cool track.  I liked the design work maybe a little more than the mix of it, but I thought it was a cool track."
Then there was the musical "Nine," which managed to miss with both audiences and critics this year.  Being a musical, though, you'd expect maybe something of a free pass for the sound team across the awards circuit.  But Russell says he was a bit disappointed with the track.
"The songs were just too loud and played way over the top," he says.  "And clearly the balance of dialog versus those songs, that gap needs to be addressed.  I've worked with Rob [Marshall] before, but somehow or another, it just didn't come together for me."
Additionally he has nice things to say about Michael Minkler and company's work on "Inglourious Basterds" as well as Michael Hedges and company's work on "District 9," but he hasn't yet had a chance to see "Avatar." Given the crew involved (one of them being his "Transformers" collaborator Gary Summers), he expects nothing but top-tier work.  And obviously, he'll definitely see the film before turning in his ballot this week.  He remains quite diligent about seeing (re, hearing) the work.
"For my own sake, I have a very true 5.1 system at home," he says.  "My mixes sound like my mixes here in my media room, so when I judge the work of others, I can pretty much know that their stage isn't going to be that much different than what I'm hearing here, so I'm pretty satisfied with what I hear from the screeners if I can't get out to see them in the theaters.  I think there's still some block voting and friends and supporting other people and all of that, but I do believe in the integrity of the branch and it puts the work first."
Russell landed his ninth Cinema Audio Society nomination yesterday for his work on "Transformers: Revenge of the Fallen" and, should he get Academy recognition as well, it will be his 13th nomination to date.  And he has yet to win a trophy.  Well, perhaps 13 won't be such an unlucky number, but to his credit, Russell knows he is likely to sit back and watch "Avatar" run the table.  He's used to being a bridesmaid by now, but one day, he's sure to get his long overdue recognition.
(Click here for a report from a recent Paramount Pictures event dedicated to the sound of "Transformers: Revenge of the Fallen.")