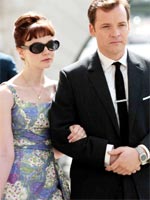 For once, my predictions weren't too shoddy … though the field-beating haul I anticipated for "An Education" didn't quite pan out. Instead, Lone Scherfig's film ties for the lead with Oscar frontrunners "Avatar" and "The Hurt Locker," all three films securing eight nominations.
"An Education" still looks like the one to beat here, though it's not quite as strong as I might have thought. (I'm especially disappointed that Rosamund Pike fails to show up, despite being one of the BAFTA acting branch's top five picks.)
However, the especially robust showing for "The Hurt Locker" (I didn't see that FX nod coming) suggests it could give the British pic trouble. Both films, meanwhile, scored directing bids, marking the first time BAFTA has nominated two female helmers in the category.
Of course, "Avatar" also poses a threat, though when it comes to the win, it doesn't strike me as BAFTA's cup of tea. It's worth bearing in mind that Cameron's last awards behemoth, "Titanic" went 0-for-10 at the 1997 ceremony. (Before you ask, it lost Best Visual Effects to "The Fifth Element.")
More discussion, and a full list of nominations, after the cut.
The surprise here is the omission of "Inglourious Basterds" from the top category, despite nods in six categories, including Best Director. The film that presumably nudged it out is "Precious," which registered more strongly with the British voters than I thought it might. Both "Precious" and "Up in the Air" made it into the top race without accompanying nods for their helmers.
"District 9," meanwhile, copped a directing nod for debut helmer Neill Blomkamp, amid seven nominations overall: it looks like competition for those final two Best Film slots was heated. In any event, this healthy haul provides the film with added ammunition to go one better on Oscar nomination morning.
Other surprises (to me at least) include a pair of Best Actress nominees. Audrey Tautou's vehicle was clearly well-liked, to judge from its three other nods, but while Saoirse Ronan was one of the acting branch's top selections, I figured the terrible buzz on "The Lovely Bones" would torpedo her chances. Evidently, however, voters really saw something in the Irish teenager's performance that I don't.
Meanwhile, two Brits who have scored in a number of the U.S. precursors, Helen Mirren and Emily Blunt, were frozen out here. (Justly so, in my opinion.) That fifth Best Actress slot at the Oscars is really looking like anyone's for the taking. (Before the Sandra Bullock haters rejoice, she wasn't eligible here.)
Some will be surprised by Andy Serkis's appearance in the Best Actor category, but I anticipated that: "Sex & Drugs & Rock & Roll" is on UK cinema screens right now, and critical acclaim for his portrayal of rock legend Ian Dury has been off the charts. The film is, however, one of the few British independents to muscle into the main categories, continuing a downward trend I discussed yesterday.
In fact, the situation was even bleaker than I had anticipated: "Moon" failed to convert any of its 10 longlist mentions into a nomination, while "Fish Tank" was similarly blanked. (It's a bitter pill to swallow when "The Hangover" beat both films to an Original Screenplay nod.)
Both films, at least, show up (and are probably the ones to beat) in the Best British Film category, which is more than poor "Bright Star" managed: despite 10 longlist bids, five of them among the top five chapter picks in their category, Jane Campion's beleaguered masterpiece received a solitary nomination for Best Costume Design.
And on it goes. The BAFTA Awards will take place in London's Royal Opera House on February 21.
Best Film
"Avatar"
"An Education"
"The Hurt Locker"
"Precious"
"Up in the Air"
Best British Film
"An Education"
"Fish Tank"
"In the Loop"
"Moon"
"Nowhere Boy"
Best Director
James Cameron, "Avatar"
Neill Blomkamp, "District 9"
Lone Scherfig, "An Education"
Kathryn Bigelow, "The Hurt Locker"
Quentin Tarantino, "Inglourious Basterds"
Best Actor
Jeff Bridges, "Crazy Heart"
George Clooney, "Up in the Air"
Colin Firth, "A Single Man"
Jeremy Renner, "The Hurt Locker"
Andy Serkis, "Sex & Drugs & Rock & Roll"
Best Actress
Carey Mulligan, "An Education"
Saoirse Ronan, "The Lovely Bones"
Gabourey Sidibe, "Precious"
Meryl Streep, "Julie & Julia"
Audrey Tautou, "Coco Before Chanel"
Best Supporting Actor
Alec Baldwin, "It's Complicated"
Christian McKay, "Me and Orson Welles"
Alfred Molina, "An Education"
Stanley Tucci, "The Lovely Bones"
Christoph Waltz, "Inglourious Basterds"
Best Supporting Actress
Anne-Marie Duff, "Nowhere Boy"
Vera Farmiga, "Up in the Air"
Anna Kendrick, "Up in the Air"
Mo'Nique, "Precious"
Kristin Scott Thomas, "Nowhere Boy"
Best Original Screenplay
"The Hangover"
"The Hurt Locker"
"Inglourious Basterds"
"A Serious Man"
"Up"
Best Adapted Screenplay
"District 9"
"An Education"
"In the Loop"
"Precious"
"Up in the Air"
Best Foreign Language Film (previously announced)
"Broken Embraces"
"Coco Before Chanel"
"Let the Right One In"
"A Prophet"
"The White Ribbon"
Best Animated Film
"Coraline"
"Fantastic Mr. Fox"
"Up"
Best Cinematography
"Avatar"
"District 9"
"The Hurt Locker"
"Inglourious Basterds"
"The Road"
Best Production Design
"Avatar"
"District 9"
"Harry Potter and the Half-Blood Prince"
"The Imaginarium of Doctor Parnassus"
"Inglourious Basterds"
Best Costume Design
"Bright Star"
"Coco Before Chanel"
"An Education"
"A Single Man"
"The Young Victoria"
Best Film Editing
"Avatar"
"District 9"
"The Hurt Locker"
"Inglourious Basterds"
"Up in the Air"
Best Makeup & Hair
"Coco Before Chanel"
"An Education"
"The Imaginarium of Doctor Parnassus"
"Nine"
"The Young Victoria"
Best Music
"Avatar"
"Crazy Heart"
"Fantastic Mr. Fox"
"Sex & Drugs & Rock & Roll"
"Up"
Best Sound
"Avatar"
"District 9"
"The Hurt Locker"
"Star Trek"
"Up"
Best Special Visual Effects
"Avatar"
"District 9"
"Harry Potter and the Half-Blood Prince"
"The Hurt Locker"
"Star Trek"
Best Debut by a British Writer, Director or Producer
Stuart Hazeldine (writer/director), "Exam"
Duncan Jones (director), "Moon"
Lucy Bailey, Andrew Thompson, Elizabeth Morgan Hemlock and David Pearson (directors and producers), "Mugabe and the White African"
Sam Taylor-Wood (director), "Nowhere Boy"
Eran Creevy (writer/director), "Shifty"
Rising Star Award (previously announced)
Jesse Eisenberg
Nicholas Hoult
Carey Mulligan
Tahar Rahim
Kristen Stewart
Best Short Film
"14"
"I Do Air"
"Jade"
"Mixtape"
"Off Season"
Best Animated Short
"The Gruffalo"
"The Happy Duckling"
"Mother of Many"