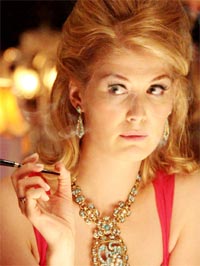 Yesterday, while talking with one of my sane friends whose thoughts drift to film awards perhaps one day a year, the conversation turned to the BAFTAs, which announce the nominations for their 2009 film awards tomorrow.
"The BAFTAs, they're like the Oscars for British films, right?" she asked.
"Not quite," I replied. "They're open to all films."
"But the British films always win, right?"
"No, not always." I stared into my pint. "Well, a lot of the time, yeah."
"Why not just make them for British films, then?"
"Because they want to be like the Oscars."
"So why do they keep rewarding the Brits?"
The conversation could have circled this way for some time, but fortunately, it was time for another round – and by the time I returned from the bar, the topic had shifted to Pat Robertson.
My friend's innocent but pertinent questions only grazed the surface of the peculiar identity crisis suffered by the BAFTA Awards, a longstanding institution, kindly regarded by many, that only joined the pack of Oscar precursors nine years ago. Since they did so, it's become increasingly difficult to ascertain who they are, what they stand for in awards season.
Are they an aspiring Oscar bellwether? Well, yes – both in the sense that they ride waves of precursor consensus from across the pond (Jennifer Hudson wasn't a locally popular choice for Best Supporting Actress in 2006), while occasionally initiating successful countertides of their own. (In 2007, the rapid shift in momentum that took both Marion Cotillard and Tilda Swinton to the Oscar podium began with surprise BAFTA wins.)
On the other hand, there are just as many occasions when they disregard their international influence in order to reward their own. Recent Best Film wins for British productions "The Queen" and "Atonement," in the face of long Oscar odds, bespeak a certain loyalty to the local filmmaking community, arguably at the expense of genuine artistic conviction in their choices. (Some industry voices cried foul, for example, when Joe Wright's film took the top prize despite landing only one other award, for art direction.)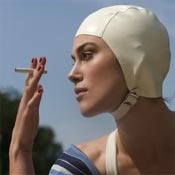 But even their status as a barometer of outstanding British film achievement is similarly inconsistent, as they continue to reveal a notable blind spot for independent and arthouse British cinema, one that has arguably got more neglectful since they took up the Oscar-baiting game: recent years have seen lavishly praised Brit pics like "This Is England," "Control," "Hunger," "Happy-Go-Lucky" and even "Shaun of the Dead" relegated to subsidiary categories, or even blanked entirely, in the BAFTA list.
If a British film doesn't have any U.S. awards traction, it seems, it doesn't stand much of a chance with BAFTA voters: overriding national pride is less of a problem with these awards, it seems, than crushing national insecurity.
That there needs to be a Best British Film category at the awards – and that no Best Film winner has ever taken the award – is testament to the curious double standards by which BAFTA measures its own industry. Meanwhile, the British Independent Film Awards continue to gain stature as a more revealing reflector of British filmmaking culture.
Of course, this is not to say that the BAFTAs should become an entirely local awards ceremony along the lines of the BIFAs or the Cesars – but they could take more initiative in the films they choose to champion. The awards were once noted for the individuality, and occasional eccentricity, of their choices – previous Best Film winners include "Sunday Bloody Sunday," "Lacombe, Lucien" "The Purple Rose of Cairo" and "Jean de Florette" – but the move to precede the Oscars appears to have narrowed their range to more predictable prestige fare.
Indeed, last year, they matched the eventual Oscar slate for Best Picture with depressing accuracy. The homogenization of the precursors continues apace.
What, then, to expect from tomorrow's announcement, clues to which have already been given by the nominee longlists unveiled two weeks ago? With the Oscar race looking to be the most Hollywood-flavored in several years, and the British presence on the American awards trail seemingly limited to "An Education," it'll be interesting to see how the BAFTAs manage their conflicting impulses toward Oscar-handicapping and local color, with no "Slumdog Millionaire" juggernaut this year to marry the two.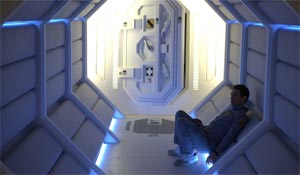 My guess is that Oscar frontrunners like "The Hurt Locker," "Avatar" and "Inglourious Basterds" will all feature heavily — but a more culturally specific title like "Precious" is an intriguing question mark, and a potentially revealing test of  BAFTA's alliance with larger awards trends.
Still, I'm guessing British pride will win out with a field-leading haul of nominations for "An Education" – just the kind of comfortable, internationally appealing British production they feel safe honoring. (If James Cameron and Kathryn Bigelow's films really are the "Titanic" and "L.A. Confidential" of this season, look for Lone Scherfig's film to be the "Full Monty" that bests them both on BAFTA night.)
Don't, however, hold your breath for more than a few token mentions for the spikier, less prominent likes of "Moon," "Fish Tank," "In the Loop" or "Bright Star" – the last three didn't even make the Best Film longlist. And certainly don't expect a Best Actor nomination for Tom Hardy's tour de force in "Bronson," also missing from the longlists. It may not seem like it at first glance, but the truth is that you can be too British for BAFTA.
My predictions for tomorrow's BAFTA nominations:
Best Film
"Avatar"
"An Education"
"The Hurt Locker"
"Inglourious Basterds"
"Up in the Air"
Best British Film
"Bright Star"
"An Education"
"Fish Tank"
"In the Loop"
"Moon"
Best Director
James Cameron, "Avatar"
Neill Blomkamp, "District 9"
Lone Scherfig, "An Education"
Kathryn Bigelow, "The Hurt Locker"
Quentin Tarantino, "Inglourious Basterds"
Best Actor
Jeff Bridges, "Crazy Heart"
George Clooney, "Up in the Air"
Colin Firth, "A Single Man"
Jeremy Renner, "The Hurt Locker"
Andy Serkis, "Sex & Drugs & Rock & Roll"
Best Actress
Emily Blunt, "The Young Victoria"
Abbie Cornish, "Bright Star"
Carey Mulligan, "An Education"
Gabourey Sidibe, "Precious"
Meryl Streep, "Julie & Julia"
Best Supporting Actor
Christian McKay, "Me and Orson Welles"
Alfred Molina, "An Education"
Christopher Plummer, "The Last Station"
Stanley Tucci, "The Lovely Bones"
Christoph Waltz, "Inglourious Basterds"
Best Supporting Actress
Anne-Marie Duff, "Nowhere Boy"
Vera Farmiga, "Up in the Air"
Mo'Nique, "Precious"
Rosamund Pike, "An Education"
Kristin Scott Thomas, "Nowhere Boy"
Best Original Screenplay
"The Hurt Locker"
"Inglourious Basterds"
"Moon"
"A Serious Man"
"Up"
Best Adapted Screenplay
"District 9"
"An Education"
"In the Loop"
"Let the Right One In"
"Up in the Air"
Best Animated Film
"Coraline"
"Fantastic Mr. Fox"
"Up"
Best Cinematography
"Avatar"
"Bright Star"
"An Education"
"The Hurt Locker"
"Inglourious Basterds"
Best Art Direction
"Bright Star"
"An Education"
"Harry Potter and the Half-Blood Prince"
"Inglourious Basterds"
"Sherlock Holmes"
Best Costume Design
"Bright Star"
"Coco Before Chanel"
"An Education"
"Inglourious Basterds"
"The Young Victoria"
Best Film Editing
"Avatar"
"District 9"
"An Education"
"The Hurt Locker"
"Inglourious Basterds"
Best Makeup & Hair
"District 9"
"An Education"
"The Imaginarium of Doctor Parnassus"
"Star Trek"
"The Young Victoria"
Best Music
"Avatar"
"Crazy Heart"
"Nine"
"Nowhere Boy"
"Up"
Best Sound
"Avatar"
"District 9"
"The Hurt Locker"
"Inglourious Basterds"
"Star Trek"
Best Visual Effects
"Avatar"
"District 9"
"Harry Potter and the Half-Blood Prince"
"Star Trek"
"2012"