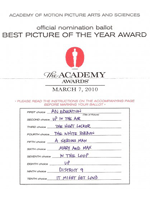 Pete Hammond's story concerning Academy members tapping out before listing a full slate of 10 nominees on their ballots is getting some traction today, but it's hardly new news.  Many voters never even bothered to come up with five nominees, so the switch to 10 was always going to yield a number of incomplete ballots.
However, the point Hammond makes concerning there being a great many outstanding ballots less than a week before polls close is worth talking about, because the events of the last week or two could have more of an impact than they have in years past.
But back to the incomplete thing, what this means, more than anything, is that fringe titles like "District 9" or "Star Trek," or even "Crazy Heart" and, hell, let's use Pete's example, "Drag Me to Hell" could have a presence on the Academy's eventual slate.  With more slots to fill, those left-field #1 and #2 choices have a fighting chance and could actually register.  Which is why it's important to note that now, more than ever, the passion vote counts.
So to those who vote with your heart: do it with gusto this year.  You might actually have a voice in this thing.