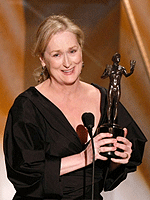 Saturday night the Screen Actors Guild Awards will go down, televised on TNT, and I can't really believe the race is THIS sewn up.  Right down the line, most are calling it for Bridges, Streep, Waltz and Mo'Nique.  There are some differences of opinion on the ensemble performance category, but for the most part, those four Oscar favorites are the expected victors with the guild.
The last time SAG went four-for-four with the Academy's ultimate winners was 2004.  The last time before that was 1997, which actually featured a tie between Gloria Stewart and Kim Basinger, so it's a bit less definitive.  And in point of fact, those are the only times things have matched up.
The reason for this is fairly simple.  The Screen Actors Guild (a 90,000-member body of people) votes for the winners at large, while the nominees are decided upon by a roughly 2,000-member nominating committee, 1,200 of them based in Los Angeles.  The nominating committee obviously sees more of the contenders than the vast membership.  For that reason, generally speaking, you can expect the unexpected.
Due to this paradigm, it behooves a studio to send out screeners.  But 90,000 DVDs can get quite pricey, so not everyone does it.  The only films that voters received this year were "An Education," "Julie & Julia," "Inglourious Basterds," "Precious" and "Up in the Air." So I find myself wondering if Jeff Bridges, for instance, is as secure here as he probably is for Oscar.
"Crazy Heart" didn't expand considerably until last weekend.  It's doing well, of course, but I'm guessing most SAG members had likely already voted by the time they were able to see it.  George Clooney, meanwhile, is totally actor-friendly, a face of the industry, an out-spoken supporter of extras and happened to miss out a few years back when voters opted for beloved character actor Paul Giamatti in "Cinderella Man" rather than Clooney's work in "Syriana" (which ultimately netted him an Oscar).
The scenario could play itself out similarly this year.  Or perhaps not.  Maybe even for those who haven't seen "Crazy Heart," seeing Bridges's name on a ballot was enough to check him off and it'll be the third time in 16 years that the winners line-up matched Oscar to a T.  Many vote blind on this stuff.  Or, hell, maybe the ultimate Oscar line-up isn't as solid as we'd like to believe.
Whatever the case, I feel like going a bit out on a limb, so I'll call it for Clooney and happily wipe the egg off my face if Bridges steamrolls on through.
Thinking along different lines, I also find myself wondering if Meryl Streep is really going to win two years in a row.  Yes, voters received copies of "Julie & Julia," but at more than $200 million in box office receipts, I imagine many of them also saw "The Blind Side" and wouldn't mind taking the opportunity to award Sandra Bullock.  There is also a slight chance Gabourey Sidibe pulls off something of an upset.
But I don't think I have the cojones to stroll any further out onto that limb, so I'll stick with Meryl.  The rest should go accordingly.
My guesses:
Best Actor
George Clooney, "Up in the Air"
Best Actress
Meryl Streep, "Julie & Julia"
Best Supporting Actor
Christoph Waltz, "Inglourious Basterds"
Best Supporting Actress
Mo'Nique, "Precious"
Best Ensemble Performance
"Inglourious Basterds"
Best Stunt Ensemble
"Star Trek"
What are your picks for this weekend's SAG Awards?  Have your say in the comments section below!