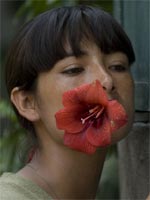 Well, as I suspected, my predictions for the Academy's foreign film shortlist were mainly off the mark, though I maintained my 4-from-9 strike rate from last year … so, yay for consistency.
That said, I'm not terribly surprised by the films that did make the cut. As I wrote earlier today, I knew one of the WWII-themed films in the mix would make the cut — but plumped for Norway's "Max Manus" instead of the Netherlands' "Winter in Wartime." And festival hit "Samson and Delilah" was high on my radar, a film I suspected the executive committee might save (as I'm sure was the case).
I foolishly blanked on Argentina's "The Secret in Their Eyes," a romantic thriller that was extremely well received at Toronto in the fall, and may yet be the spoiler in this race. I'd received word that this was one to watch, but it slipped my mind this morning.
But I can honestly say I didn't see Kazakhstan's "Kelin" or Bulgaria's rather awesomely titled "The World is Big and Salvation Lurks Around the Corner" coming.
As chance would have it, the four titles I did predict are the only ones I've seen on the shortlist. "A Prophet" and "The White Ribbon," of course, remain the presumed frontrunners in this race. My thoughts on both films are on the record.
But while I've been predicting all along that Michael Haneke's Golden Globe-winner will get snubbed on nomination morning, this list now leads me to think otherwise — with soft Oscar bait like "Baaria" and "Forever Enthralled" omitted in favor of more challenging, lower-profile works, it seems likely that both the year's arthouse juggernauts will make the cut. Whether either of them can win is another question entirely.
As for the remain two, I endorse the adventurous inclusion of Claudia Llosa's Berlin champ "The Milk of Sorrow," even if I can't entirely endorse the film itself: it's a rigorous, beautifully crafted study of female repression across multiple generations, but I found its super-solemn earnestness a little hard to warm to.
Rather better is Israel's "Ajami," a densely structured but sharply paced portrait of Jaffa culture wars, boasting the media-friendly novelty of Israeli and Palestinian co-directors. Following "Beaufort" and "Waltz With Bashir," both of which I personally found less rewarding than "Ajami," I fully expect Israel to land its third consecutive nomination in this category.
By and large, with this shortlist, the Academy has dodged the embarrassment of previous years — there are no stunning snubs on the scale of "4 Months, 3 Weeks and 2 Days" or "Gomorrah," though many critics will mourn the exclusion of "Police, Adjective." (I saw that one coming.)
Some might be surprised that the executive committee didn't step in to save the lavishly acclaimed Romanian entry, though I suspect they had their hands full protecting other critical darlings. (Looking at the balance of the list, my guess is that "Samson and Delilah" and either the Haneke or the Audiard — or perhaps even both — needed the extra help.)
Okay, so my months-long hunch that Finland's "Letters to Father Jacob" would be this year's "Departures" was off-base. My guess, then, is that we're looking at nominations for France, Germany, Israel, Argentina and The Netherlands. (So it's all but assured that most of those won't make it.)