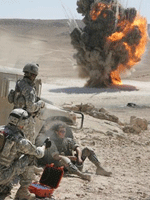 Ironic that his release drops tonight just as I'm transcribing an interview with sound mixer Greg Russell for tomorrow's Tech Support column.
The list of nominees for the Cinema Audio Society doesn't exactly hold any surprises.  The only film on the list that isn't being predicted in the sidebar as of right now is "District 9" (I have "Inglourious Basterds" in there at the moment).  Michael Minkler and his team could still slide in, but given the names involved, this really does feel like a safe batch of films to predict for all you office poolers.
The CAS doesn't always match up with the Academy on winners, of course, because no one outside the sound branch of the Academy has a friggin' clue what quality sound mixing is (or the difference between that and sound editing, for that matter).  But regardless, I would expect "Avatar" to win both this time.  The makings of a juggernaut, all of that.
It's probably not even worth pointing out that "Nine" missed the cut at this point.  It has been missing with guild after guild as it is, and there might have been a few that thought it would get in for simply being a musical.  But I've heard some grumbling about that mix for a while now (it was apparently a bit of a mess), so it's not so shocking to see it miss here.
But back to "District 9," if you're keeping track at home, this makes five guild/industry award citations so far.  That's a pretty healthy haul and one more indication that there is plenty of support to get it into a field of 10 Best Picture nominees.
Personally, I'd give the award to "Star Trek." My true favorite in the category, "The Lovely Bones," was destined to be snubbed.
Anyway, the nominees below and at The Circuit.
"Avatar"
Re-recording mixers: Chris Boyes, Gary Summers, Andy Nelson
Production mixer: Tony Johnson
"District 9"
Re-recording mixers: Michael Hedges, Gilbert Lake
Production mixer: Ken Saville
"The Hurt Locker"
Re-recording mixer: Paul N.J. Ottosson
Production mixer: Ray Beckett
"Star Trek"
Re-recording mixers: Anna Behlmer, Andy Nelson
Production mixer: Peter J. Devlin
"Transformers: Revenge of the Fallen"
Re-recording mixers: Greg P. Russell, Gary Summers
Production mixer: Geoffrey Patterson