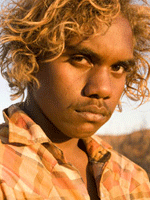 Well, Guy nailed down four of them.  But you just never know what this controversial branch is going to do.  I'd love to know what the secondary committee had to re-institute (probably "A Prophet"), but nevertheless, we have our nine.
The only films I was predicting that didn't make the cut are "Backyard" from Mexico and "Forever Enthralled" from China.  Replace those with "Ajami" from Israel (which I JUST took out of my predictions Monday in favor of "The Milk of Sorrow") and "The Secret in Their Eyes" from Argentina and that would be my bet.
I'll leave it to Guy with further thoughts later on.  I need to catch up on the rest of films now that it's a more, shall we say, manageable list.  Check out the full list of nine, from an original list of 65 submissions, after the jump.
"The Secret in Their Eyes" (Argentina)
"Samson & Delilah" (Australia)
"The World is Big and Salvation Lurks Around the Corner" (Bulgaria)
"A Prophet" (France)
"The White Ribbon" (Germany)
"Ajami" (Israel)
"Kelin" (Kazakhstan)
"Winter in Wartime" (Netherlands)
"The Milk of Sorrow" (Peru)