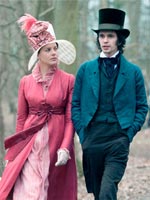 As the season has broken down some pundits to the point of pondering whether or not "The Hangover" has a shot at a Best Picture nomination, it really does seem an eternity ago that "Bright Star" was even in the conversation.
With Jane Campion's film ridiculously failing to secure even technical Guild recognition so far, it's really looking like one of the season's great lost causes.
Yet to weigh in, of course, is the Costume Designers' Guild, which announces its nominees in a week's time. If the film misses there, designer Janet Patterson would be well within her rights to torch their headquarters.
We'll be profiling the film's craftspeople in Tech Support eventually: for now, courtesy of Refinery 29, two of Patterson's original sketches should remind you of the year's finest threads. Check them out after the cut.