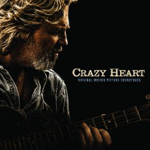 The "Crazy Heart" deluxe edition soundtrack hit stores today along with a streamlined, standard version, and it's a must own if you like the movie or this kind of music.  There are little treasures sprinkled throughout that you get for a couple extra bucks, like a modified instrumental version of "Somebody Else" from Stephen Bruton, the killer "Joy" from Lucinda Williams, some lovely accompanying tracks from George Jones, Kitty Wells, The Delmore Brothers and Lydia Mendoza.  Oh yeah, and Thomas Canning's piano riff from the film.
I've been listening to Waylon Jenning's "Are You Sure Hank Done It This Way" for a few weeks now, but I'm all over this.  In case you missed it last week, Ryan Bingham recently performed "The Weary Kind" on The Late Show with David Letterman.
Last year when I walked out of "Slumdog Millionaire," one of the first things I asked was if the soundtrack was going to be released, because it was fantastic.  This after "Juno" had already covered similar terrain a year earlier.  "Crazy Heart" was obviously a no-brainer on that front, so the studio should have another hit on its hands (thanks especially to T Bone Burnett, of course, for putting it all together).  Someone give that music division a raise.