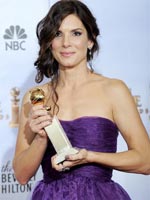 Last January, I wrote an especially effusive review of the previous night's Golden Globe awards, commending the usually much-derided HFPA for looking beyond star power and box-office grosses. Instead, they assembled an international and rather indie-minded winners slate that included such titles as "Happy-Go-Lucky," "The Wrestler," "In Bruges," "Vicky Cristina Barcelona" and eventual Oscar-sweeper "Slumdog Millionaire."
What a difference a year makes.
Whether stung by matters of ratings and economics, or simply wowed by a very different school of cinema this year, the Foreign Press voters were back to the big-name pandering for which they are famous.
Everyone present, meanwhile, seemed quite aware of the fact, some — including host Ricky Gervais and, in the night's best speech, Robert Downey, Jr. — openly teasing them for it. "One thing you can't buy is a Golden Globe," the reliably droll Gervais observed, beer in hand. "Officially."
So, what did I learn from last night's proceedings?
BIGGER IS BETTER: "Avatar." "The Hangover." "The Blind Side." "Sherlock Holmes." "Julie & Julia." With the exception of double winner "Crazy Heart" and smooth studio pic "Up in the Air," you could be forgiven for thinking that a $100 million gross was a minimum requirement for top-category consideration last night. I wrote in a Long Shot column last week that this could be the year the mainstream Hollywood reclaims awards season, after independent and European dominance in recent years. Whether or not such an agenda was at work, it's hard to deny that the Globes helped push this narrative.
IT'S A TWO-FILM RACE: Between "The Hangover" and "Avatar." Kidding. But big-name properties "Up in the Air" and "Inglourious Basterds" needed a strong showing here to elbow into the "Avatar"–"The Hurt Locker" contest, and they didn't get one. That may sound hypocritical, given that Kathryn Bigelow's film was blanked entirely by the HFPA, but the tough, star-free indie was so far outside the Globes' comfort zone that this didn't move the needle for it one way or the other. The DGA and PGA awards are bigger players in this David-and-Goliath story — and if, as I suspect will happen, they split, we won't be any wiser until Oscar night itself.   
SANDRA BULLOCK DOESN'T HAVE MICKEY ROURKE'S VOTE: Seriously, did you see that grimace on the Stetson-hatted rebel's face when he pulled Bullock's name from the Best Actress envelope? Not since Julia Roberts presented the 2001 Best Actor Oscar has a presenter hidden their personal thoughts quite so badly. Rourke's reservations notwithstanding, Bullock's back-to-back wins this weekend probably cemented her as the only obstacle to Meryl Streep's third Oscar — and as long as she glides through the publicity circuit with such humility and good humor, she's a formidable obstacle at that.
THE OSCAR GOES TO JEFF BRIDGES: This I knew months ago, but not all awards pundits were quite so sure. Now, after beating chief rival George Clooney twice in one weekend — and serving up a pair of unpolished acceptance speeches that nonetheless played perfectly to his shuffling charms — the momentum has demonstratively swung The Dude's way. There's a chance SAG, who have never rewarded either actor, may disagree. But with the long-overdue Bridges boasting the more heavyweight performance, and Clooney's first Oscar still fresh in the memory, I see only one outcome here. (Ditto Christoph Waltz and Mo'Nique, both of whom stamped already-sealed deals with eloquent acceptance speeches.)
I CAN'T PREDICT FOR SHIT: I mean, really. But we all already knew that, didn't we?
And finally…
SALLY HAWKINS ROCKS: Okay, so it doesn't say much for my enjoyment of last night's show that the brief appearance of last year's richly-deserving Globe champ (to present a rather less deserving but still irresistible Robert Downey, Jr. with his gong) constituted one of the evening's highlights for me. But after her nerve-riddled acceptance speech last year, it warmed my heart to see the gangly Brit looser, cheerier and looking a million dollars in a jagged above-the-knee frock — seemingly beamed in from a different planet to the legions of plucked, primped, Grecian-gowned goddesses before her.
I make no claims for objectivity here — Hawkins didn't even get to say anything, beyond a list of names, to further endear herself to me. (Though a recent viewing of her new film, "Happy Ever Afters," did just that.) Perhaps her appearance just helped cast my mind back to a very different Globes night.