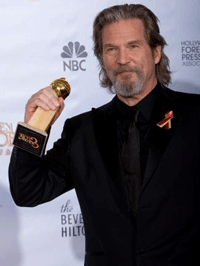 As it turned out, the only celebration I made it to last night was Fox's Globes after-party at Craft in Century City.  Given that "Avatar" and "Crazy Heart" were two of three films to win more than one Globe (the other being Pixar's "Up"), it kind of felt like the place to be.
The early part of the evening was dominated by the "Crazy Heart" crew.  I came in with Ryan Bingham and Scott Cooper, the latter dumbfounded at how certain celebs were getting his number to send well-wishes and praise for his little film.  Bingham, meanwhile, told me he was at the bar when the Best Original Song category was announced, which explains why T Bone Burnett accepted solo.  "Sorry for partyin'," Bingham told me.  "Story of my life."
Burnett, it turns out, will be producing Bingham's next album.
Meanwhile, you could follow the bursts of applause to locate Jeff Bridges, who took down the Best Actor in a Drama trophy when many thought George Clooney would register with the, shall we say, star-friendly HFPA.  Then again, whoever said Bridges wasn't a star?  And judging by the standing ovation, his second of the weekend (everyone was on their feet Friday, too), you can expect his steamroll through the season to continue next weekend at the Screen Actors Guild Awards and then, ultimately: the Oscar.  Interesting to note his lawyer advised him not to take the part, I assume thinking it wasn't high enough on a scale of exposure.
And yet here we are.
The "Avatar" folks began to file in slowly but surely.  First there was Sigourney Weaver, who I never did get a chance to meet.  Then Stephen Lang was in the house.  We spoke briefly about his reunion with director Michael Mann in "Public Enemies" and his work as the hard-assed jarhead (or perhaps "scarhead" is more applicable) in James Cameron's film.  Nothing earth-shattering.  Zoe Saldana, Maggie Gyllenhaal, Peter Sarsgaard, Tom Rothman, Jon Landau, the venue began to fill out.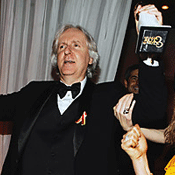 However, it wasn't until nearly 11:00 that Cameron strolled in with a tribe of photographers.  I didn't want to engage with him much more than a simple "loved your movie, saw it a few times," but I guess that was too much of his time, judging by his cool reaction.  Alright, he perked up a bit, but he literally thought I was going to steal his Golden Globe at one point.  Settle down, King of the World.
Anyway, not exactly brilliant reportage, but The Carpetbagger's Paula Schwartz was at the same event and does a nice job of canvasing the territory here.
As for the ceremony itself (I was 9/14 on my predictions), we all know not to put too much stock into what the HFPA decides to anoint.  Their choices couldn't be more reflective of a desire to hob-nob with the stars (Robert Downey Jr.'s win, for instance — though I've been saying for a while that I quite liked his performance) or appear tragically hip (like, say, "The Hangover" winning Best Picture comedy).  I wouldn't say Cameron's win means anything in the grand scheme because, as I've been reporting, the HFPA wasn't keen on "The Hurt Locker" (if the film's zero win count didn't clue you in) and a guy like Cameron, or Quentin Tarantino for that matter, a "celeb" director, was simply more up their alley.
Guy does a nice job of rounding out perspective on the evening below.
But an Oscar season works in ebbs and flows.  We're just under two months away from the actual Oscarcast.  There is time for any number of backlashes to settle in.  Ballots for nominations are due Saturday, so the buzz of the last fortnight is the most relevant.  Things to note in that time: "Avatar" has run up the box office story.  Maggie Gyllenhaal has hit the publicity circuit (as "Crazy Heart" has expanded further).  The guilds have spoken up for "A Serious Man" and "District 9," but rebuffed (for the most part) "Invictus." And "Nine," of course, has missed with critics and audiences and managed to come away from the CCMAs and Golden Globes empty-handed.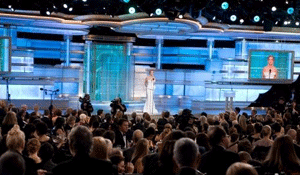 What an event like the Globes does afford is a massive audience for winners to seal the deal with their acceptance speeches.  And by all accounts, Jeff Bridges and Mo'Nique did just that with heart-felt soliloquies that registered just the right notes.  Sandra Bullock, meanwhile, with another great speech, has come right up along side Meryl Streep in the lead actress race, adding yet another element of drama to the season.  "The Hangover," after being recognized by a few guilds, has won a Best Picture prize over four films that have been expected to figure into the Oscar race in some way.  Very interesting times.
And then next weekend I'm thinking "Inglourious Basterds" takes the SAG ensemble award, fracturing the race in one more direction.  But this is what we want, right?  A race that, for lack of a better phrase, remains somewhat up in the air throughout?
I've gone through the Contenders section and done some weeding, but not a lot.  The sidebar has also been updated, but there isn't really much to discuss on that front.  I will say that I think the bottom tier of the 10 is soft at the moment and more in flux than you might think.  Any of the seven films listed as dark horses in the Best Picture section have a play here and, at the end of the day, we might have a surprise or two pop up.
One can only hope.