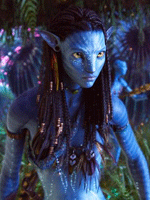 No surprises there.  James Cameron's film landed 11 separate mentions from the Visual Effects Society (some more specifically indicated than others).  "2012" and "District 9" each landed three nominations, while "Sherlock Holmes" and "Star Trek" each landed two.
The nominees in the main field, "visual effects in a visual effects driven feature motion picture," are:
"2012"
"Avatar"
"District 9"
"Star Trek"
"Transformers: Revenge of the Fallen"
Check out the rest of the nominees (feature film categories only) at our somewhat more streamlined Circuit page.