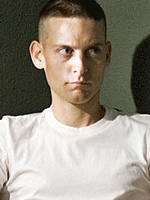 There will be a number of post-Golden Globes parties tonight — Summit, Warner Bros., Fox, Weinstein, etc. — but a pair of studios did it up Saturday night in honor of their nominees.
First at the Chateau Marmont, Paramount toasted its stable with a star-studded, paparazzi-snapping affair.  Actually, it wasn't the least bit comfortable.  Talk about over-invited.  In the inner sanctum, surrounded by Martin Scorsese, Robert De Niro, Leonardo DiCaprio, Kate Winslet, Benicio Del Toro, Vera Farmiga, Anna Kendrick, Mike Tyson (who wasn't on the list, but would you turn him away?), George Clooney, Chris Pine, Tobey Maguire, etc., breathing, let alone moving more than two inches, was a chore.  Jason Reitman was on hand early on but had to take off for the LAFCA gala before long.  Luckily, he missed that fire hazard.
I got a few seconds with Farmiga, who was excited to say hello to Scorsese again.  Anne Kendrick and her beau Edgar Wright smartly made their way to a secondary room at one point where we had a nice chat.  Wright was, of course, being hit up by "Scott Pilgrim" queries left and right.  From the youngsters, that is.  The crowd was largely, shall we say, octogenarian.  Plenty of HFPA and Academy members scattered throughout.  And Kendrick, bless her heart, didn't even want to talk about the "O-word."
Oh, I suppose I was rebuffed by Mark Whalberg at one point.  "Hey man, I loved 'The Lovely Bones,'" I said as he kept along his bee-line to whomever.  "Yeahthanksmanjusttryingtogettotheseguysoverhere."  I would have thought praise for that film was unique at this point.  Anyway…
A little farther up Sunset at the Beverly Hills Hotel's Polo Lounge, Lionsgate was celebrating the talent of "Precious," "Brothers" and "Mad Men," which made for a more accessible affair at the very least.  After an entire season of somehow missing face time with the "Precious" crew, I finally got a chance to speak with Gabourey Sidibe, who is responsible for my favorite leading performance of the year.  She was, as you might have guessed from her television appearances, a delight.
Screenwriter Geoffrey Fletcher was also holding court, darting from this person to that, quite capable of navigating such a crowd.  And I was happy to bump into "Mad Men"'s Jared Harris, who crossed my path a few times last season due to his involvement with "The Curious Case of Benjamin Button." His is always a "what have you seen that's good?" conversation, and it's nice to just spit-ball the latest releases with him.
David O. Russell, Jon Hamm, Peter Facinelli, Chiwetel Ejiofor, "The Office"'s Leslie David Baker (lovely gent) and Tobey Maguire were all on hand.  I also got a chance to finally say hello and congrats to director Lee Daniels on the way out, but he didn't seem interested.  Who knew he'd have something in common with Marky Mark?
Anyway, it's not going to slow down tonight.  I won't be attending the Globes but I'll do what I can on the after-party circuit.  Suffice it to say, my body hates me.