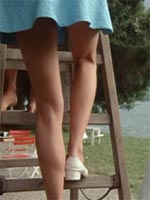 • As you've just heard, "The Hurt Locker" emerged triumphant at the BFCA Critics' Choice Awards.
• Earlier this week, Éric Rohmer, sly giant of New Wave intellectualism, passed away at the age of 89.
• That same day, "Avatar," "The Hangover" and "Star Trek" were among the films nominated by the WGA.
• The ASC slate continued the love for "Avatar," but a semi-surprise nod for "The White Ribbon" got pundits' attention.
• Completing a trio of Guild announcements in one day, the ACE revealed their editing nominations.
• Off the Carpet made a formal appeal to Academy voters to put some individual thought into their ballots.
• The Long Shot mused on what looks to be a more American-flavored Oscar race than the last couple of years.
• In Tech Support, we profiled the gifted craftsmen behind "A Serious Man."
• An Academy bake-off (I always get fun mental pictures from that term) left seven films in the race for Best Makeup.
• BAFTA nominated five young actors for their Rising Star Award, including Carey Mulligan and Kristen Stewart.
• We got some face time with the stars of "The Blind Side," and came away more charmed by them than by the film.
• Do I need to remind you which film topped the box office last weekend?
• "The Cove" and "The Beaches of Agnes" were among the documentaries nominated by the DGA.
• Some journos began pushing the notion that there's a contest for the Best Animated Feature Oscar.
• Add "The Princess and the Frog" to the list of titles disqualified from Best Original Score consideration.
• As usual, Kris and Anne put a bow on a busy week in Oscar Talk.